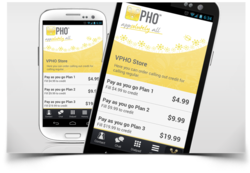 VPHO users can now place phone calls plus see and compare package prices all in one simple step and window.
(PRWEB) March 27, 2013
The "appsolutely" one-stop-shop communications app VPHO now includes a call-out service that will allow VPHO users to purchase credit directly from the recently updated VPHO interface. There is no requirement for users to agree to additional contracts or submit themselves to recurring monthly fees that are common with major mobile data providers. The new feature expands the app's use to a broader audience, providing users across the globe with access to their friends and families who don't have the resources or opportunity to join the VPHO network.
"We improved the quality of our connection to assure clear quality for voice calling," says Eliran Hadar Project Manager and CTO of VPHO. "We also changed the VPHO interface and dial pad to fully indicate the credit availability and the rate price for each calling prefix. VPHO users can now place phone calls plus see and compare package prices all in one simple step and window."
VPHO's latest software addition to "call-out" to PSTN or GSM contacts presents users with a "pay as you go" opportunity to reach out to contacts who are unable to download the VHPO application. Users need only add phone credit to their VPHO account, which can be added directly from the app interface. To do this, users only have to go to the profile page and select the available credit option they want to purchase. The user is ready to place phone calls as soon as the credit is added to the account. Rates per phone call can be checked via the profile page and by checking the "check price" option. Enter the phone number and press continue to see cost of placing the phone call.
About:
VPHO combines the special features of each of its leading competitors into one, single functioning app. With VPHO, iPhone, iPad, and Android users are able to access an all-in-one communication solution. Access to Edge, 3G, 4G, Wi-Fi connection VPHO allows users to connect with people from around the world by audio and video calls with crystal clear precision. The app also provides text and media messaging as well as video and voice conference calling, something not offered by another app currently available on the market. VPHO is available at App Store.