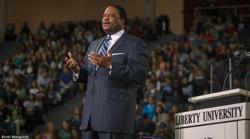 Lynchburg, VA (PRWEB) March 26, 2013
One of America's most beloved sportscasters, James Brown (JB), shared his seven fundamentals to success during his first Liberty University Convocation appearance on Monday March 25.
For Christians, all success is not necessarily "good success," that which Jesus Christ calls them to, Brown said.
"As I have grown in my spiritual life, I have tied each of those fundamentals to a scriptural foundation because I do understand that ultimately success in life does not mean there is going to be eternal success."
Chancellor Jerry Falwell, Jr. welcomed Brown to the stage as "one of America's best-known sports personalities."
Brown is the host of "NFL Today" on CBS and Showtime's "Inside the NFL." He has received numerous awards for broadcasting, including three Emmy awards for outstanding studio host. SportsIllustrated.com named Brown "Outstanding Studio Host of the Decade" for his work on FOX, CBS, HBO, and Showtime.
He is the co-founder and principal of Brown Technology Group and is involved in several charities, including Special Olympics D.C., March of Dimes, Joe Gibbs' Youth for Tomorrow, Carson Scholars Foundation, and the Fellowship of Christian Athletes. Brown is a founding partner of the Washington Nationals.
An ordained minister, Brown is also a passionate man of God. He has spoken at numerous churches and men's conferences around the country and has appeared on several Christian television programs, including "Praise the Lord," "Hour of Power," and "700 Club."
The seven fundamentals — develop good communication skills, dress for success, be prompt, hunger and thirst for knowledge, develop interpersonal skills with diverse groups of people, deal with adversity, and have fun in the process — may be basic knowledge, but Brown stressed the importance of applying them in order to excel.
As he described each, he shared stories of how they had been true in his own life. Many were humorous recollections of how he learned a lesson by failing to apply them.
"Coming from the world of sports, especially team sports, I understand how important it is to master the fundamentals to be successful in any endeavor," Brown said. "Fundamentals are tried and true. They are the truths, be they in the world of work or in … the spiritual world. The fundamentals are what you have to build your success on in order to be effective and successful in any arena."
At the close of Brown's presentation, Falwell joined him on stage and asked him if there were many people of faith in his industry, to which Brown said there are. He talked about the character of individuals like former Indianapolis Colts head coach Tony Dungy and Tim Tebow (who spoke at Liberty on March 8). He said it is important for Christians to stand out and display character in the workplace.
"God's people can be the most successful doing it the right way," he said. "We need to be bold about (sharing our faith) and to model that behavior, understanding that … well done is better than well said."
View past Convocations on Liberty's YouTube channel.
About Liberty University:
Liberty University, located in Lynchburg, Va., is the world's largest Christian university. Nearly 100,000 students attend classes on its 6,800-acre residential campus and study in its thriving online education program.