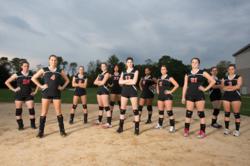 Bryn Athyn's athletic program has experienced unprecedented growth, adding eight new varsity sports in three years.
Bryn Athyn, PA (PRWEB) March 27, 2013
The National Collegiate Athletic Association recently announced they have accepted Bryn Athyn College into the Division III exploratory membership process starting in the fall of 2013.
Director of Athletics Matthew Kennedy stated, "This is certainly a major step forward for our college and is an opportunity for our student-athletes to nationally showcase the type of athletic experience we foster at Bryn Athyn College. It is an experience that takes the lessons we teach in the classroom of honesty, respect, and charity, and applies them to our actions on the field or court."
Kennedy began writing a strategic plan for athletic growth upon his hire in 2010. Since then, Bryn Athyn's athletic program has experienced unprecedented growth, adding eight new varsity sports in three years. This fall, Bryn Athyn will sponsor ten varsity sports including men's and women's cross country, women's volleyball, men's and women's basketball, men's and women's lacrosse, men's and women's tennis, and men's soccer.
Dean of Students Kiri Rogers commented, "We have found many similarities between the NCAA philosophy and our mission. We will use this exploratory year to continue to evaluate if NCAA Division III is right for Bryn Athyn College." Like Bryn Athyn, the NCAA's Division III model emphasizes academics above all: "The college experience is a time of learning and growth—a chance to follow passions and develop potential. For student-athletes in Division III, all of this happens most importantly in the classroom and through earning an academic degree" (ncaa.org). Athletic participation provides a complement to classroom learning, helping student-athletes "push themselves to excellence and build upon their academic success with new challenges and life skills" (ncaa.org).
After the year-long exploratory process, Bryn Athyn will apply for the four-year provisional process. Bryn Athyn has also applied to the North Eastern Athletic Conference and hopes to be accepted for membership in the fall of 2014. Joining a regional athletic conference improves Bryn Athyn athletics by providing formalized competition and reducing travel time for teams.
The progress in Bryn Athyn College athletics mirrors outstanding college-wide growth in academics, student life, and enrollment.
About Bryn Athyn College: Founded in 1877, Bryn Athyn College is a small, private, coeducational, liberal arts college dedicated to a New Church approach to education and life. The curriculum pairs rigorous academics with spiritual inquiry and emphasizes critical thinking, quantitative reasoning, writing, public presentation, and experiential education. Bryn Athyn classes are small, with an average class size of 13 students and a student-faculty ratio of 7:1. The 130-acre campus is located in Bryn Athyn, Pennsylvania, 14 miles north of center-city Philadelphia.