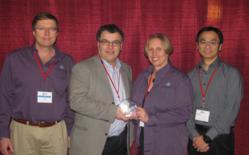 Partners such as BAASS succeed by creating innovative solutions for their clients by always seeking new ways to build and deploy software solutions to ensure that quality services and great products go hand in hand
(PRWEB) March 28, 2013
BAASS Business Solutions Inc. (BAASS), a distinguished Sage 300 ERP partner within North America and the Caribbean, has been named Orchid Systems Reseller for the third consecutive year.
Orchid Systems is a Sage Gold Development Partner with award winning solutions for the Sage 300 ERP product line. Solutions include EFT Processing, Information Manager, Info Explorer, Process Scheduler, Bin Tracking, Inter Entity Transactions, Inter Entity TRADE, and the Return Materials Authorization product now sold by Sage as a Sage 300 ERP module.
Orchid Systems were pleased to announce the winner of their Reseller of the Year Award at the 11th annual Third Party Advantage Conference (TPAC) in March 2013. BAASS was recognized for having the most dollar sales of Orchid Systems solutions throughout the 2012 calendar year. This award not only recognizes outstanding sales achievement, but also a dedicated commitment to customer service and satisfaction with Orchid Systems solutions and investments in cooperative marketing activities such as customer webinars and annual education conferences in London, Burlington and Toronto.
"We are honoured to win our third consecutive Orchid Systems Reseller of the Year Award. Our dedication to customer service, technical expertise, and consultative services are consistently proving to be a winning combination in the industry marketplace", said Joseph Arnone, President of BAASS.
"Partners such as BAASS succeed by creating innovative solutions for their clients by always seeking new ways to build and deploy software solutions to ensure that quality services and great products go hand in hand," said Robert Lavery, President of Robert Lavery & Associates, representing Orchid Systems.
About BAASS Business Solutions Inc.
BAASS is a full service technology firm with twenty-five years of industry experience. With a broad client portfolio, BAASS serves over 2,500 clients across North America and the Caribbean. With a past record of successful system implementations, BAASS has been recognized within the industry on numerous occasions. Recognitions include being ranked in Accounting World's Top 100 VARs, Accounting Technology Magazine's Pacesetters Award, two consecutive Business Partner of the Year awards from Sage Software Inc ., and nine consecutive Sage President's Circle awards for being a top performing Business Partner.
With an experienced team of IT and business application and design consultants, BAASS offers a comprehensive range of services including needs assessment, management consulting, system design and configuration, software training and technical support in accounting, ERP, CRM, e-business, custom web solutions, and specializing in Sage HRMS, Bamboo HR, Sage CRM, Sage 300 ERP, Sage ERP X3 and Deltek products and services.