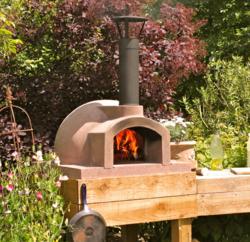 Favoured for their excellence in pizza cooking, versatility and heat retention, The Stone Bake Oven Company are making a name for themselves as the best British made 'Italian oven.'
(PRWEB UK) 27 March 2013
The Stone Bake Oven Company, who manufacture and sell a range of pizza ovens all over the UK have expanded sales over Europe including the true home of pizza ovens, Italy. Favoured for their excellence in pizza cooking, versatility and heat retention, The Stone Bake Oven Company are making a name for themselves as the best British made 'Italian oven.'
Made differently to other pizza ovens on the market, The Stone Bake Oven Company has brought the wood fired pizza oven to the modern age, using insulating aggregates that not only cook a perfect authentic pizza, but do so more efficiently than their Italian counterparts.
"Wood fired ovens have steadily been growing in popularity in both peoples homes and gardens, and on a commercial scale in restaurants" says Tom Gozney the Commercial Director. The Stone Bake Oven Company sell a range of British made ovens from the affordable Primo 60 Oven, suited to most balcony's and garden spaces, to the commercial pizza oven rage, which can cook over 15 pizzas to crispy perfection at a time.
The Stone Bake Oven Company's range of wood fired ovens are fast becoming known for far more than just their excellence in pizza baking, with the ability to roast, bake, smoke and cook just about any dish in one, with the unique flavours and cooking environments only a wood burning oven can create.
The Stone Bake Oven Company have been largely responsible for making wood fired cooking more accessible to passionate foodies all over the UK, with an affordable range of high quality outdoor pizza ovens suited to family entertaining, large events and parties. Economic wood consumption means a Stone Bake Oven is not only a greener way of cooking, but an affordable one at that.
Visit The Stone Bake Bake Oven Company's website for culinary inspiration,recipes, cooking tips and of course, wood burning pizza ovens. http://www.thestonebakeovencompany.co.uk