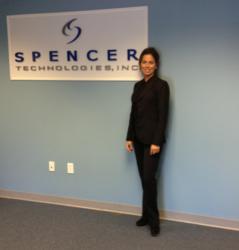 We are thrilled to announce the designation of one of our own to our brand new Canadian division. Angie Bucci will be an absolute asset to the role of Sales Manager
Northborough, MA (PRWEB) March 27, 2013
The technical experts providing IT networking and solutions to the top restaurants and retailers across North America, Spencer Technologies have named Angie Bucci as Sales Manager of their new Canadian sales team. Promoted from within, Bucci brings more than 15 years of account and project management experience to the table to expand and strengthen their newly developed Canadian sales division.
Angie Bucci's history with Spencer Technologies includes several process improvements to corporate offices while managing retail-sector data-communication installation projects. Bucci has a solid reputation of delivering quality on time and under budget, and her talents as an effective communicator allow her to be outstanding in boardroom sales presentations and on-site construction settings. She consistently achieves optimal results while creating and maintaining excellent relations with clients and contractors.
"We are thrilled to announce the designation of one of our own to our brand new Canadian division. Angie Bucci will be an absolute asset to the role of Sales Manager," said David Strickler, CEO of Spencer Technologies. "Her qualifications are extensive and because of which she is a practiced and proven team leader at the head of her profession. By putting motivated individuals such as Angie into our most strategic roles, we have ensured a solid future generation of solutions for Spencer Technologies."
Acknowledging the need for industry leaders to spearhead the future of their success, Spencer Technologies has multiple talented additions worth noting on the sales team roster, with Angie Bucci leading the charge.
For more information, please contact Spencer Technologies at 508-595-9496, email Spencer Technologies at info(at)spencertech(dot)com or visit the Spencer Technologies website at http://www.spencertech.com.
About Spencer Technologies:
With over 40 years of experience, Spencer Technologies strategically utilizes over 250 employees and 150 technicians in five locations throughout the United States and Canada in support of the retail industry. It is a cohesive group of technical experts that provide IT networking and POS configuration solutions to restaurants and retailers of all specialties, keeping their IT hardware, software and networking systems on pace with the latest trends in technology.