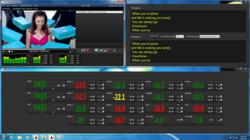 Clearwater, Florida (PRWEB) March 27, 2013
Vela Research announced its ArgoNavis QC/QA System designed to give operators the confidence that the high value and unique content and programming they deliver to their loyal customers and viewing public is free of errors, glitches and flaws. The ArgoNavis QC/QA System is a powerful, agile and advanced professional HD/SD system with the ability to support multi-format, multi-screen content ranging from extremely high bitrate mezzanine content down to bandwidth-economizing content for mobile devices - and everything in between.
The ArgoNavis QC/QA System enables users to automate the process of performing quality control/assurance on files containing content in different formats, resolutions, frame rates and bitrates - in faster-than-realtime. Operators can perform comprehensive checks for video and audio characteristics and properties - as well as performing detection, decoding, parsing, extraction, recording and archiving functions on the content.
The extensive quality checks include verification of SDI and VANC data, Closed Captioning data, MPEG parameters, frame integrity (black and freeze frames), Digital Program Insertion, audio levels, missing audio and LKFS/loudness measurements as well as audio and video metadata. The system can be set up to generate alerts as the verification is done, as well as to create logs and notify essential staff when pre-defined events such as incidences of non-conformance or non-compliance are encountered in any of the files being processed. The ArgoNavis automatically generates (and can disseminate) extensive logs and records of measurements and data collected during the QC/QA process.
The major suites of functionality of the ArgoNavis QC/QA System include:

Powerful, complete functionality for QC/QA of your video and audio content
•• Fully integrated QC automation suite
•• Closed Captioning, Metadata, VANC suite
•• Frame monitoring/detection for black. freeze frames/anomalies
•• Comprehensive audio & video measurement/monitoring
•• Real-time playback, graphics overlay, rendering suite

Intelligent decision making with real-time alerts/alarms and comprehensive reporting
Multiformat/Multiscreen decoding (AVC, MPEG-2, MXF, AVI, QuickTime, Apple ProRes, DV)
HD/SD 4:2:0, 4:2:2
High bit rate/mezzanine source file support
Extensive 608 &708 CC capabilities - monitoring, parsing, extraction, overlay
Full set of audio support capabilities (MPEG, PCM, AAC, AC-3, Dolby pass-through)
Kevin Grubbs, Vela's Director of Engineering said, "The ArgoNavis QC/QA System can handle content in all of the video and audio formats primarily being used in today's professional video environments, and comes in a compact 1.5 RU form factor. We designed it to perform in complex workflow environments with demanding requirements in terms of the diversity and volume of content files whose quality and integrity need to be verified prior to further transcoding, enhancement and distribution. The solution can efficiently process a large number of files in faster than real-time, check for issues in a comprehensive set of characteristics and parameters, flag any errors found, and notify all stakeholders - all in a highly automated fashion. The system can even automatically fix errors in audio loudness, to make audio levels conforming."
Mike Reddy, Vela's President said, "the ArgoNavis has become the pre-eminent platform for the most demanding operators to ensure that their content delivered is flawless. This solution integrates efficiently into existing workflow environments, and can not only perform the quality assurance on large volumes of content files quickly, but can provide exhaustive reports and logs for use in operations and compliance audits that are essential in today's environment."
Brodacast, Cable, IPTV, Content Creation, Content Distribution, Post Production and related customers interested in ArgoNavis QC/QA System can contact Vela.