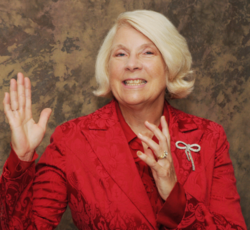 Create buzz and spark your profits.
Daytona Beach, FL (PRWEB) March 28, 2013
Dr. Elizabeth Rush Kruger, blogger on strategicpower.biz, explains how customer love can go viral. Her tip sheet shows entrepreneurs how organic buzz can spark their profits.
Experts agree that the most effective promotion is word of mouth testimony from customers. Nowadays most customers interact on Facebook, Twitter, and LinkedIn. What, if anything, are customers saying about a business? Will what they say go viral and generate buzz?
This week Marla Tabaka, Inc. Magazine, published five tips for generating buzz about a business. First, be unique. For example, Virgin Airlines provides leg-room, whereas competitors offer cramped, no-frills travel. Second, repeat a simple compelling message such as "Virgin Airlines made flying fun." Third, recognize and reward customers. For instance, on its ninth anniversary, Virgin Blue gave away plane tickets for $9 each through Twitter. Fourth, network with the community like Virgin Airlines did on social media. Fifth, connect emotionally. One way is to thank customers for their positive feedback. They will share the recognition with their communities.
Building on Tabaka's tips, Dr. Elizabeth Kruger's releases a tip sheet on how to generate buzz AND spark profits for a business.
First, being unique is not enough. Delight the most profitable customers and discontinue offering what competitors offer. Tailor products and services to be uniquely what top customers want. For example, Harley has a patent on the sound of its twin cam motor.
Second, repeat a simple compelling message that is empathetic. Instead of bragging about a business, promote with empathy. Other motorcycle companies brag about price, delivery, and performance. In contrast, Harley promotes a retro-American lifestyle with great empathy for their desires.
Third, only recognize and reward top customers. Use stratified service policies. Personally interact with top customers and automate interactions with other customers. A business cannot delight top customers if it rewards complainers. Instead, neglect the complainers. They are exploiting the system and the business is losing. However, Harley customers are motivated to pay high prices and eagerly wait for delivery.
Fourth, network with the community of similar prospects. Contact prospects that are similar to the most profitable customers. Discover how they are similar, yet different from other customers. Identify prospects with their distinctive traits, communities, and activities. Convert these prospects to highly profitable new customers. Compared to typical bikers, Harley bikers tend to be older and more conservative.
Finally, connect emotionally with the most profitable customers. Appeal to their motives for buying. Quote their idioms and depict their idealized lifestyle. Highly profitable customers often identify with the business. For example, Harley buyers seek freedom from the cage, not the rebellion depicted in the movie, Hell's Angels.
Her blog, strategicpower.biz, publishes other marketing tips and excerpts from Dr. Kruger's upcoming book. Entrepreneurs eagerly await Aesop's Rules: Profit from Timeless Marketing Wisdom. The wisdom in Aesop's fables resonates over the ages with timeless truth. Dr. Kruger shows how their marketing wisdom can spark the profits of a business.
Recently Business Expert Press published "Top Market Strategy: Applying the 80/20 Rule." Graduate marketing classes around the world are adopting Dr. Kruger's book to supplement their textbooks. Barry Silverstein, ForeWord Reviews, praises her college supplement as a "profit-generating tool."
In summary, Dr. Elizabeth Kruger's tip sheet coaches entrepreneurs to generate buzz and spark profits for their business. Her blog, strategicpower.biz publishes marketing tips and excerpts of her upcoming book. Entrepreneurs eagerly await Aesop's Rules: Profit from Timeless Marketing Wisdom.
Strategic Power has an A+ rating with the Better Business Bureau. Dr. Kruger's coaching, writing, and speaking are sparking profits around the world. She will gladly customize guest blogs, speeches, and articles for specific purposes. Dr. Kruger has been a guest on 11 syndicated radio shows. Please contact Dr. Kruger directly for media interviews, speeches, and articles.