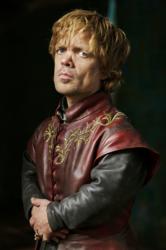 Arya should be sitting in chairs backwards, she's got so much AC Slater cool in her.
Los Angeles, CA (PRWEB) March 27, 2013
Tyrion Lanister currently sits atop Ranker's list of the "Best Game of Thrones Characters" with a narrow lead over Arya Stark. After two seasons, Tyrion (played by Emmy winner Peter Dinklage) is as debauched and oversexed as ever, but has shown unparalleled bravery in the face of his adversaries and is the only member of his family to crack the Top 10, most of whose spots belong to members of the House Stark. As of March 2013, just days before Game of Throne's season 3 premiere, the crowd-sourced list has been voted on by over 600 people at consumer opinions website Ranker.com, and includes all of the series main characters for fans to vote on.
The rest of the Top 5 characters are as follows:
1) Tyrion Lanister
2) Arya Stark
3) Eddard Stark
4) Daenerys Targaryen
5) Jon Snow
"There's nothing too surprising about the top 10 here in my opinion. Tyrion is the reigning King of Awesome and Arya should be sitting in chairs backwards, she's got so much AC Slater cool in her." said Joe Star, comedian and creator of the comedy show "Pre-Game of Thrones", "and everyone loves mysterious dudes, so everyone loves Jaqen. Jamie should be ranked over Jorah, but I'm sure time and story will resolve that little error."
See the full list of Favorite Game of Thrones Characters, as well as 1000s of other Television lists at Ranker.com.
Ranker.com is the premier crowd-sourced platform for consumer rankings. Consumers visit Ranker.com more than seven million times a month to view, rank and vote on broad, opinion-based questions across a wide range of topics including food, sports, travel, entertainment, cars and many others. The Ranker.com results are pure, unbiased and based on semantic algorithms that assign values based on mean numbers and ranker behavior. For more information, visit Ranker.com.