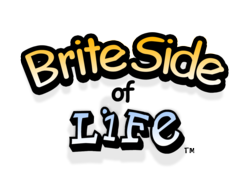 "It's Time...To Put Your Smile On!"
Cardiff By The Sea, CA (PRWEB) March 27, 2013
BriteSide of Life has just received their first signed contract since releasing the product on March 14, 2013. Entravision Communications has secured rights for their Spanish language stations in the San Diego market.
Entravision Communications Corporation is a diversified Spanish-language media company utilizing a combination of television, radio and digital operations to reach Hispanic consumers across the United States, as well as the border markets of Mexico. Entravision is the largest affiliate group of both the top-ranked Univision television network and Univision's UniMas network, with television stations in 19 of the nation's top 50 Hispanic markets.
BriteSide of Life is an original series of 20-second animated features depicting positive social values ranging from courtesy and kindness to courage and determination. Providing a new opportunity to increase local station advertising revenues, the segments can be used either as sponsored inserts in news broadcasts or standalone short features elsewhere on the programming schedule. BriteSide of Life is the latest syndicated product from MGN Online (http://www.mgnonline.com), America's premier distributor of still and animated graphics serving more than 600 U.S. television stations and other media outlets.
About MGN Online
America's premier resource for still and animated graphics, MGN Online has a wide-ranging client roster of affiliates extending across television, online and print media. MGN Online serves newscasts, webcasts, newspapers, web radio and other news and information services24/7 through its innovative content creation, storage and distribution facilities. MGN Online is a division of Multimedia Graphic Network Inc., founded in 1982 and based in Cardiff by the Sea, California.