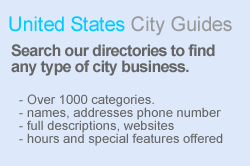 The directories should prove a great resource for both consumers and businesses.
New Orleans, LA (PRWEB) March 27, 2013
Financial Firebird Corporation introduces a new series of United States city guide websites starting with the official launch of the channel for New Orleans LA. With the experience of publishing travel guides for most of the Islands of the Caribbean and Atlantic including the Bahamas, the company now expands its reach in several ways with these latest inclusions to the Financial Firebird family.
Prior sites focused more specifically on travel and tourism featuring hotels, restaurants and the types of businesses frequented by vacationers, business travelers or those briefly passing through an area. The new sites such as the one for New Orleans Louisiana offer a directory including a much broader array of entries. For local residents this means the inclusion of plumbers, electricians and other contractors and well as businesses like auto repair, dentists or physicians which a one week tourist would likely never require but could be quite important to a someone living in New Orleans full time. Businesses using the New Orleans guide may discover it endeavors to contain every company in every business category. As of today the directory offers over 35,000 listings in hundreds of categories headlined by Real Estate, Restaurants, Hotels and Lawyers. Soon visitors will be able to search for businesses by sub specialty too, like when one needs to find a bankruptcy lawyer.
Perhaps in keeping a bit with the history of its predecessor travel guides, the landing page of the site features hotels powered by Financial Firebird's related web pages specifically on New Orleans Hotels and tickets to sold out events such as the New Orleans Saints games at the Superdome. Another area displays a rotating selection of featured New Orleans businesses and local New Orleans news scrolls near the bottom of the page.
Individual business listings vary based on information known by Financial Firebird, public data and additional items which may have been provided be the business itself. Expect at a minimum to find basic address and phone number as well as a map for every company. When known you may find additional business descriptions, company website, Facebook and Twitter links and specialties of the business within its industry.
The site endeavors to provide a much deeper level of information compared to a basic directory or yellow pages listing and in time more and more businesses and categories within the guide will rise to these goals. Consumers looking to find a local business or a company looking for more exposure should both give this new New Orleans guide a try. More cities coming soon.
About Financial Firebird Corporation
Financial Firebird Corporation provides unbiased consumer information, software and marketing services for the mortgage, debt, foreclosure, auto lending and other financial, travel or real estate related industries as well as basic marketing, financial and website services for all companies including credit card processing. Established 2000 and a proud BBB member.