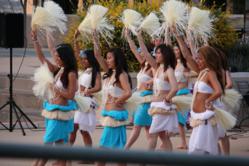 "The Luau...featuring Whole Roasted Pig, Korean BBQ Ribs..."
Aliso Viejo, CA (PRWEB) March 28, 2013
Aloha! Join Soka University's Ka Pilina Ho'olokahi Hawaiian Dance Club for Soka University's 4th Annual Luau. Enjoy an all-you-can-eat Hawaiian buffet by Bon Appetit and a captivating show of Pacific Island dances performed by SUA students. The Luau Buffet will open at 5 pm, featuring Whole Roasted Pig, Korean BBQ Ribs, Fried Rice, Sticky Rice, Vegetarian Fried Rice, Chicken Long Rice, Macaroons, Haupia (traditional Hawaiian dessert), Salads, Fresh Tropical Fruit and a Pina Colada Smoothie station.
The Polynesian Dance Show will begin at 5:30 pm on the Campus Green (outdoor seating). Bring blankets and low beach chairs and enjoy some island time with your family and friends at Soka University's beautiful Aliso Viejo campus, located at 1 University Drive.
Presale tickets are $15 for adults, $7.50 for children. Tickets at the door will be $18 for adults, $9.00 for children. Parking is free. For presale tickets, please email sokaluau(at)gmail(dot)com
Map and Directions: http://www.soka.edu/directions
Soka University is a private, four-year liberal arts college and graduate school in Aliso Viejo, CA. The university is ranked in the Top 7 liberal arts colleges in California and Oregon by US News and World Report's "Best Colleges 2013," and in the Top 50 in the country. Soka University offers a 9:1 student/faculty ratio and study abroad for every undergraduate student which is included in the tuition. Founded upon the Buddhist principles of peace, human rights and the sanctity of life, SUA is open to top students of all nationalities and beliefs. About 60% of Soka University's students come from the US and 40% have come from more than 40 other countries. Admitted students whose annual family income is $60,000 or less may be eligible for Soka Opportunity Scholarships which cover full tuition. Additional scholarship opportunities are available for higher income levels.