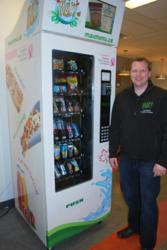 "We're ready to install our next 1000!" – Shaun Casey, Canadian Healthy Vending
Calgary, AB; Vancouver, BC (PRWEB) March 27, 2013
Canadian Healthy Vending hit a manufacturing milestone with its 1000th Max! Healthy Vending Centre installed since the Fall of 2011. The Max! vending program provides healthy snack options as its focus. It has proven itself a success at businesses, schools and workplaces across Canada, and Max! machines can be found in every province.
Iain Lovell of Calgary, Alberta, the operator of the 1000th machine, says, "Max! Canadian Healthy Vending created a machine that is just plain cool. The fresh graphics and LCD screen draw you in."
The 1,000th machine is located at First Calgary Financial's Administration office. The organization is the ninth largest credit union in Canada, with nearly 500 employees working in the greater Calgary area. Jimmy Berrios, Facility Administrator for First Calgary Financial, commented, "The health and well-being of our employees is extremely important to us. The Max! Healthy Vending Centre has been positively received because it provides our employees with a variety of healthy snacking choices."
The trend toward more health-conscious snacking in Canada has been a challenge for traditional vending companies, who have reacted by adding the occasional healthier item to their standard fare. Vendors are discovering that meeting these new consumer demands requires a different approach. Progressive companies like Canadian Healthy Vending recognize that a true healthy snacking program means offering a range of healthy products that serve different diets and tastes.
Max! machines make use of cutting-edge technology to efficiently satisfy the needs of today's more health-conscious consumer. The high-resolution LCD display on the machine promotes and provides nutritional information about Max! healthy products. The Max! Menu System allows users to browse products and make requests from their local operators, and the remote monitoring capability built into each Max! machine allows operators to monitor sales selections, make inventory decisions from their web browser and quickly update stock at individual locations.
During off-hours, Canadian Healthy Vending Centres have energy-saving technology to minimize the energy used by lights and vending functions.
Max! machines look after the consumer with the Health Guard Function, based on safe food handling policies in Canadian jurisdictions. For example, with perishable items, temperature monitoring ensures that only fresh, safe products are sold.
"The phenomenal success we've experienced is a strong indicator that Canadians are ready for healthier snacks at work, school and play. The popularity of the Max! Canadian Healthy Vending Centres is also due to the high quality experience the up-to-date interface provides today's information-savvy consumers. It seems like only a few weeks ago we were discussing the concept and completing our prototypes. Now we're ready to install our next 1000!" – Shaun Casey, VP Marketing, Canadian Healthy Vending
About Canadian Healthy Vending
Canadian Healthy Vending is a Vancouver-based vending equipment manufacturer and distributor with over 23 years experience in the Canadian vending industry and is the manufacturer of the Max! Healthy Vending Machine. Our Mission is to get healthy snacks and nutritious drinks into the hands of Canadian workers and students in every city and province across the country. The state-of-the-art Max! Healthy Vending Machine features both cash and cashless payment systems in addition to a high resolution display monitor, which provides nutritional information on product offerings, and information on community health initiatives. To get more information about Canadian Healthy Vending or to get a Max! Healthy Vending Machine at your workplace visit the Max! website.