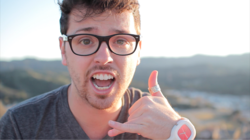 "His fresh attitude and his winning personality matches our direction for title loans', says Fred Winchar, President of Max Cash Title Loans
Los Angeles, CA (PRWEB) March 28, 2013
Max Cash Title Loans, one of the leading title loan processing centers in the industry, has completed its journey to find their next spokesperson with the naming of the winners for the "2013 Be the Next Max" contest. Max Cash Title Loans invited the web community to submit their own homemade videos for a chance to become the face of the company, which is headquartered in the Chicago metropolitan area.
The "Be the Next Max" campaign was featured on the mymaxcash.com platform and was free for any member of the public to enter. Contestants uploaded videos to the website that described why they would be the best spokesperson for the company in unique, engaging, and often humorous ways.
QuadW International, the controlling company of Max Cash Title Loans, oversaw the contest due to its expertise as a leader in the field of online reputation and visibility management. While the intent of the contest was to find a single spokesman, QuadW International found upon its review that the quality of the submissions and contestants was so high that additional considerations would have to be made for the applicants.
On February 28th, 2013, in an unprecedented decision after reviewing all of the submissions, Max Cash Title Loans announced that it had found both its next Max and Maxine, awarding 1st place to both a male and a female contestant in a landmark tie. Furthermore, three second-place prizes were awarded due to the high volume of quality submission for the competition.
Ryan Francis of Los Angeles, CA was awarded a $1,000 prize and named the next Max. As a graduate of Master's College with a Bachelor's of Arts in Communication-Electronic Media, Ryan's experience with video editing and producing allowed him to get the edge on other contestants with an original and well-produced video submission. "I had been looking for opportunities to further my career in the realm of video, when I came across the Max Cash contest," said Francis. "This opportunity as the spokesman for Max Cash allows me to open a whole new chapter in my life."
"What impresses me the most about Max Cash Title Loans is that they help to provide opportunities through their services on a daily basis for people around the country. I am proud to be the face of a company that offers anyone a new chapter on their lives."
"Ryan is fresh, original, and talented, and these characteristics really speak about who we are as a company and as a source for funds," said Fred Winchar, President of QuadW International and Max Cash Title Loans. "He is unique and yet he is the everyman who could be your goofy brother, your best friend, your cousin, your neighbor, or the cool kid that you grew up around. He will represent us well."
Max Cash Title Loans will be utilizing their spokesman in the production of a series of YouTube videos to be featured on the West Coast, as the face of the company for events and trade shows across the country, and will have Max and Maxine (contest winner Janet McMahon) represent the charitable arm of their company through giving drives and fundraising events. Additional exposure for the spokesmodels will be presented on the Max Cash Title Loans website, offering users the opportunity to check in with Max and Maxine.
Currently Max Cash Title Loans is running another promotion that ends in a few days. The firm encourages someone to write an essay about the person who they think should get $1,000 and what that would mean to them. Visit MyMaxCash.com to enter
Max Cash Title Loans was founded by Fred Winchar in 2008 and has emerged as a top supplier of leads in the sub-prime lending market. Max Cash Title Loans serves as the backend to the most trusted and popular title loan lending websites. In 2012 Max Cash expanded into the field of online retail stores and loan processing with the acquisition of MX Financial Services.
QuadW International has served as a pioneer in the field of online visibility management and marketing since 2009. QuadW International has grown from a single-service company to a full-service provider of Crisis and Reputation Management, Security and Marketing Solutions, and has developed leading technology such as an application to integrate chat into websites, which has improved close ratios for those sites by 95 percent. It's coveted 5 Diamond Award embodies the representation of businesses that exude the highest possible standards in quality and conduct each year.