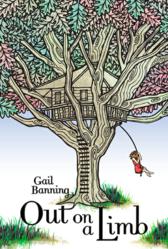 Nominated for Canadian Library Association's Book of the Year for Children Award
Vancouver, B.C. (PRWEB) March 27, 2013
When Key Porter Books ceased operations in 2011, Gail Banning's Out on a Limb was one of many novels to go out of print despite strong sales and continued demand. Daunted by the time and resources needed to self-publish and self-promote, Banning decided to partner instead with Vivalogue, a specialty publisher that shared both costs and revenues. Vivalogue provided standard publishing services while Banning retained copyright and full editorial control. The second edition of Out on a Limb will be released in April 2013 with initial distribution by Red Tuque Books.
Acclaimed for its originality when first published by Key Porter in 2008, Out on a Limb is the story of 12-year-old Rosie, who convinces her apartment-hunting family to move into a huge tree house left to them in the will of a mysterious ancestor. Unravelling the mystery of her family's inheritance becomes less of a concern to Rosie than what to tell her snobby new classmates about her unconventional home. One evasive answer turns into a tangle of lies, with painful consequences.
Nominated for Canadian Library Association's Book of the Year for Children Award and named one of Year's Best 2008 by Resource Links, Out on a Limb is described as "highly original" (BC Bookworld) ; "surprising and heart-warming" (City Parent magazine); "refreshing…a truly adventurous tale" (Lancette Arts Journal). Quill & Quire declared that "Banning's whimsical first novel is filled with imaginative possibilities...young readers will finish Out on a Limb wanting to experience more of Rosie, her family, and their treehouse adventures."
"It was the nicest surprise to find that Out on a Limb was gone-but-not-forgotten," said Banning. "I kept getting requests for copies, and for me Vivalogue was the most practical means of meeting that demand. I didn't want Rosie and her treehouse to disappear. I love that place!" Banning is currently working on the sequel to Out on a Limb with publication anticipated in 2014.
FORM MORE INFORMATION OR REVIEW COPIES: Contact the author at gailbanning(at)gmail(dot)com or the publisher at 1-877-538-6222.
ABOUT VIVALOGUE: Vivalogue is a Canadian publishing company focused on helping the authors of children's and young adult books to republish out-of-print titles.