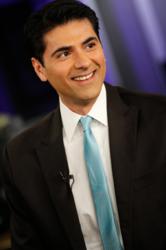 There's some reason to believe that coffee may decrease the risk of dying.
Beverly Hills, CA (PRWEB) March 27, 2013
People have long debated the health effects of consuming coffee. During Monday's appearance on Good Day LA, Dr. Sonu Ahluwalia gave viewers the go-ahead to consume everyone's favorite morning beverage in moderation.
"What we've found is that coffee, overall, is good for you," said Dr. Ahluwalia, who is an orthopedic surgeon at La Peer Health Systems, an outpatient surgical center in Beverly Hills.
In the past, doctors have warned against coffee consumption for reasons ranging from its effect on sleep to its ability to stunt growth. Fortunately for caffeine addicts, recent studies show that coffee not only poses no great health risk but may also offer a variety of health benefits including improved concentration and a reduced risk of disease.
"There's some reason to believe that coffee may decrease the risk of dying," said Dr. Ahluwalia.
In addition to reducing one's risk of developing type 2 diabetes, coffee seems to have a beneficial effect on diseases like Alzheimer's and Parkinson's. However, the board-certified surgeon suggests that coffee's health benefits may stem, not from caffeine, but its other ingredients including antioxidants and polyphenols. According to Dr. Ahluwalia, people considering various caffeine sources, like diet cola, should definitely opt to drink coffee.
While studies indicate that coffee is safe and even beneficial for most individuals, people with certain pre-existing conditions may want to avoid a daily dose of joe.
"One caveat is people who have glaucoma, or have a family history of glaucoma—sometimes the coffee can increase the pressure in your eyes," said Dr. Ahluwalia. For this reason, people with existing health problems and conditions should talk to their doctors before making decisions about daily caffeine intake.
Because coffee affects each person differently, doctors can't prescribe a specific quantity of the beverage that individuals should consume. In general, Dr. Ahluwalia recommends that people not exceed four cups of coffee each day and avoid loading up on cream and sugar.
Watch the entire news segment with Dr. Ahluwalia on My Fox LA.
For more health tips from Dr. Ahluwalia, as well as videos of his other FoxLA segments, visit his Facebook page.
Sonu Ahluwalia, MD, is an internationally-acclaimed board-certified orthopedic surgeon at La Peer Health Systems, as well as the Clinical Chief of Orthopaedic Surgery at Cedars Sinai Medical Center in Beverly Hills. His private practice specializes in sports medicine, shoulder, knee and hip surgery.
Dr. Ahluwalia completed his orthopedic training at the Harvard Combined Orthopaedic Surgery Residency Program in Boston, one of the most sought after training programs in orthopaedic surgery. He has completed three fellowships, two at Harvard Medical School and one at Lenox Hill Hospital in New York City, on shoulder surgery, sports medicine, and joint replacement and joint preservation surgery. For more information please call 310.659.2910 or visit http://www.Ahluwalia.org.