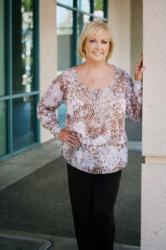 The most common way people give up their power is by thinking they don't have any
Yorba Linda, CA (PRWEB) March 26, 2013
In the spirit of collaboration and sharing messages of personal empowerment, Nancy Ferrari will be sharing motivational messages to a live audience at MoMondays Newport Beach on April 15, 2013. As a transformational leader, speaker, author and radio show host of The Nancy Ferrari Show on W4CY Radio, The Intertainment Network, Nancy Ferrari will share life experiences and lessons in life to prompt the audience to ponder why setbacks in life create a trigger to cease forward momentum. So often, life presents obstacles, challenges, and the unexpecteds on the path to living a life on purpose and within a newly discovered true calling. Nancy Ferrari will share how to survive and thrive through setbacks in life to motivate, inspire and uplift the listening audience.
MoMondays Newport Beach debuts on April 15, 2013 at Ten Asian Bistro Restaurant and all are invited to attend to hear a mix of open mic comedy and expert motivational speakers all within an entertaining environment. More information may be obtained at http://www.MoMondays.com.
To learn more about Nancy Ferrari, visit http://www.NancyFerrari.com.