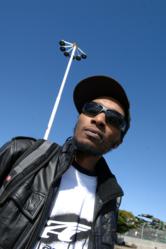 Del's elastic language is the real star here. Rhyming about everything from The Hobbit to Joe Piscopo, he cements his status as rap's staunchly independent lord of the underground and perhaps the best rapper you've never heard
Napa, CA (PRWEB) March 27, 2013
Hailing from Oakland, California comes Del the Funky Homosapien no doubt a true innovator and legend in the world of underground Hip-hop. Del got his start rapping behind his cousin, Ice Cube, as a member of his back-up band and crew.
After parting ways, Del ventured out as a solo artist, making music that immediately gained attention. Del's music offered a fresh new outlook on an otherwise gangsta rap controlled California Hip-Hop scene. His viewpoint offered a more detached alternative style laced with humorous rhymes and funky beats. After securing a deal with Elektra Records, Del released two critically acclaimed albums, I Wish my brother George was here ( 1991) and No need for alarm (1993). Despite record sales in the hundred of thousands, his third album, Future Development, was never commercially released.
Tickets for Del the Funky Homosapien plus Gift of Gab (of Blackalicious), Serendipity Project, Bukue One are $25. They are on sale now and can be purchased through the theatre website at http://www.uptowntheatrenapa.com, at Ticketmaster (http://www.ticketmaster.com) or at the theatre box office (please call 707.259.0123 ext. 6 for hours). To find out more, please visit http://www.uptowntheatrenapa.com.
The Uptown Theatre Napa is downtown's ultimate destination for live concerts. Nestled in the famed West End district, this stunningly restored art deco masterpiece showcases only the finest acts, featuring music, comedy and more. An historic landmark, the Uptown offers a phenomenal, intimate live show experience, with excellent site lines and world class sound and lighting. As concert venues go, this is the place to be. Every seat is a great seat so buy concert tickets now!