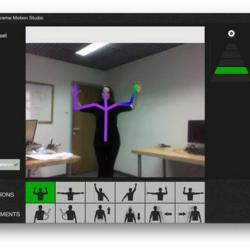 Extreme Reality wants to make motion-capture gaming available to everyone, and we continue with our goal for both gamers and game developers to have access to our technology on any platform and on any device with a built-in 2D camera
San Francisco, California (PRWEB) March 27, 2013
Extreme Reality, developer of Extreme Motion software, announced today the first live demonstration of full-body motion gaming on iOS using the device integral 2D camera. Using the technology, motion games can now be ported for all devices, without being restricted to additional hardware or peripherals.
In addition, the company also announced the Extreme Motion Developers Program with support for iOS and Windows. Developers that apply and accepted for the program will be supported through the short implementation process by the company's engineering team including stability checks, best practice recommendations, and tailor made solutions.
The Extreme Motion SDK enables:

Running motion games on iOS, Windows 7 and Windows 8
Recognition of body positions and user movements
Auto detection of built-in and external cameras
Real-time, full-skeleton image analysis
Native C API and MoNo C# Interface
Plug-in support for Unity3D on iOS and Windows 7
The developer kit includes:

Full developer guide
API documentation
Code library with samples and reference materials
Release notes and EULA
"Extreme Reality wants to make motion-capture gaming available to everyone, and we continue with our goal for both gamers and game developers to have access to our technology on any platform and on any device with a built-in 2D camera," said Asaf Barzilay, VP Products at Extreme Reality.
The Extreme Motion SDK represents the first full-body motion-game platform for any device using a standard 2D camera, with no need for additional hardware or peripherals. Demonstrations of the technology on multiple platforms, including iOS, will be held in the Extreme Reality booth at the Game Developers Conference 2013 (booth 1632) at Moscone Center in San Francisco from March 27th through March 29th.
Developers can apply for the program at http://www.xtr3d.com/developers, and will be able to explore the SDK and speak with Extreme Reality engineers at the company's booth at GDC.
About Extreme Reality
Established in 2005, Extreme Reality, also known as XTR3D, is a privately held company based in Herzlia, Israel. The company is the developer of the patented Extreme UI gesture control and Extreme Motion full-body 3D motion capture software. Supported by strong intellectual property, this powerful technology allows any consumer electronic device to enable full-body 3D motion capture using a standard 2D camera. This software can be implemented on any platform, turning any consumer electronic device into a full-body motion-controlled game system. For more information, visit http://www.xtr3d.com.