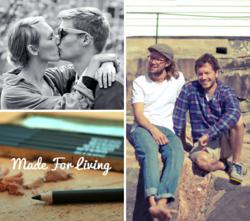 If you've ever woken up looking a little bit worse for wear, Myego will be your salvation - Esquire
(PRWEB UK) 27 March 2013
At the beginning of each year Myego choose a city to take part in a before and after public photo shoot to demonstrate how to use the mens range of make up products. This year, armed with plenty of stock, the Myego crew took to the streets of London to show men make up in action.
Myego's aim is to create awareness of how easy it is to for men to resolve the most common skin concerns. During the course of two days, Myego met men with a whole range of skin imperfections, different skin tones and of ages ranging from 18 - 45 years old. The majority of men were very surprised at how discreet and undetectable the products were when applied to the skin. This is because Myego's make up is uniquely developed for men and the demands of men's skin which is a lot different to women's.
Ben of Myego says "Most of the guys who use our products, use them to hide skin imperfections like acne, blemishes, redness and dark circles but the majority of men out there aren't aware of how easily these problems can be discreetly solved by using a simple concealer or tinted moisturiser"
While before and after photo shoots were in full swing, half the crew left the Myego base to interview one thousand men in order to find out London's top skin worries. The results, along with Myego's solutions, are as follows:
1.Acne and Blemishes - Myego's Solution is Cover Select Concealer
Mens Health says "This Easy-to-use mens concealer makes concealing imperfections quick and simple"
2.Oily and shiny skin - Myego's Solution is Matifiant Shine Rescue
Matifiant is developed to get rid of the look of shiny skin by absorbing excess oil on the skin's surface but it adds no visible colour or texture.
3.Redness and un even skin tone - Myego's Solution is Fonteint Hydrating Enhancer
Esquire says ''If you've ever woken up looking a little bit worse for wear, Myego Fonteint will be your salvation''
The results of the before and after photo shoots showed that 91% of the volunteers involved found the mens makeup undetectable on the skin. Because the make up could not be seen and it looked so natural, the men also said they felt their confidence was dramatically increased.
The London campaign refreshingly backs up why Myego was founded in 2005, to develop products uniquely for men that will always remain undetectable on the skin. To see before and after photos, learn more or to view the range visit http://www.myego.co