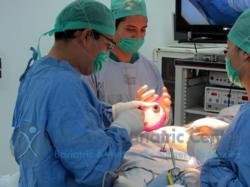 "I was surprised how fast the patients recovered, even compared with laparoscopic vertical sleeve surgery," says Dr. Ron Elli.
(PRWEB) March 27, 2013
Mexico Bariatric Center (MBC) performs the first single-incision bariatric surgery in Tijuana, Mexico. With the addition of single incision, MBC is one of the first medical tourism companies in Mexico to offer a wide variety of surgery options.
The first round of surgeries was performed in Tijuana's Hospital Mi Doctor with MBC's advanced laparoscopic and robotics surgeon, Dr. Carlos Diaz. All the patients underwent gastric sleeve procedure with a single incision. They were successfully operated on with only one incision and no drain. Learn more about this by viewing our photo stream on the procedures.
"In a single-incision surgery all the instruments are entered into the abdominal cavity through one opening made about 1.5 inch," says Ron Elli, Ph.D., the director of MBC. He continues "sometimes one or two additional incisions are needed to perform the surgery in a safe way." Yet, the procedures done were without a second or a third incision, as Dr. Carlos Diaz artfully performed the surgery. Dr. Diaz's patients needed no drain since the procedure was accomplished with minimal bleeding. "I was surprised how fast the patients recovered, even compared with laparoscopic vertical sleeve surgery," says Dr. Ron Elli.
"We urge people to visit our website to find more information about single-incision gastric sleeve procedure, as well as, other bariatric surgeries," Dr. Ron Elli offers.
About Single Incision Surgery
Single incision weight loss surgery, also known as single port weight loss surgery, is a technique to undergo laparoscopic surgery using one or two incision rather than five or six incisions. Single port weight loss surgery uses the body's navel or umbilical to achieve the same surgical capacity as traditional laparoscopic bariatric surgery.
Advantage of single port bariatric surgery is it leads to cosmesis, faster recovery times and less scarring. Single incision weight loss surgery is specifically advantageous to patients with body mass indexes (BMIs) of less than 40. Patients with 40 BMIs are less likely to need cosmetic surgery and thus are likely to value the aesthetic results of single port surgery.
About Mexico Bariatric Center
Mexico Bariatric Center is a healthcare facilitator specializing in weight loss and metabolic procedures. Mexico Bariatric Center performs weight loss procedures in centers in Tijuana, Guadalajara and Puerto Vallarta. MBC represents some of the best surgeons in Mexico including Dr. Jacqueline Osuna, Dr. Ramos Kelly, Dr. Ismael Cabrera and Dr. Louisiana Valenzuela. MBC offers various surgeries options including vertical sleeve gastrectomy, rny gastric bypass, duodenal switch and other various procedures.
Advantages of going to Mexico include expert bariatric surgeons, inexpensive pricing, as well as the lower patient wait times. Mexico Bariatric Center strives to perfect the art of curing obesity, as well as remission of co-morbidities. Mexico Bariatric Center hires only the most caring, dedicated weight loss surgeons in Mexico.