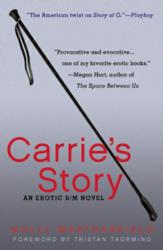 The book's sensual descriptions, naughty and nice, are exceptional.

— Julie Eakin, ForeWord Reviews
(PRWEB) March 27, 2013
"Before there was Anastasia, there was Carrie. A rip-roaring ride through the world of dominance and submission." —Kristina Wright, editor of Best Erotic Romance
Twenty years before the phenomenon of 50 Shades of Gray, Molly Weatherfield came out with the wildly popular Carrie's Story, an erotic novel detailing the adventures of a smart, relatable heroine from Berkeley, California. In celebration of its latest edition, Weatherfield has launched a virtual blog tour for the book. For the next two weeks, there will be special interviews, excerpts, and commentary on the book from a variety of sources, and the complete schedule can be found here.
Molly also makes in-person appearances, like her recent readings at Good Vibrations and Wicked Grounds. Join her for more readings in New York and San Francisco (see her website for more details).
About Carrie's Story
Brilliant, bold and exquisitely kinky, Carrie's Story is an American Story of O that goes to the head of the class, literally, with a heroine who is a Ph.D. candidate in comparative lit. And, if that is not sexy enough for you, she has plenty of darker desires, fully imagined and elegantly expressed in an erotic tale that may well be the finest BDSM novel ever written. Set on the streets of San Francisco and in the posh chateaus of Napa Valley, CARRIE'S STORY is the "thinking reader's submissive." Bestselling romance writer Molly Weatherfield has crafted a modern-day classic coming-of-age story that will captivate you with this journey into a world of secret sensuality.
Molly Weatherfield, the pen name of Pam Rosenthal, is also the author of Safe Word, the sequel to Carrie's Story. A prolific romance and erotica writer, she has penned many sexy, literate, historical novels. She lives in San Francisco.