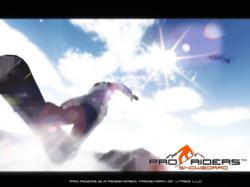 Adding 3D motion control was our solution to approach a new market of consumer that can enjoy an enhanced user experience of our Pro Riders game
San Francisco, California (PRWEB) March 28, 2013
At the Game Developers Conference in San Francisco, Extreme Reality is demonstrating VTree Entertainment's Pro Riders Snowboard game with 3D motion controls using a standard 2D webcam. VTree Entertainment released the game this January and plans to release the 3D motion control-enhanced version by end of May 2013.
Developed by VTree Entertainment, Pro Riders Snowboard has stunning character visuals and vivid surrounding environments. The game also includes real-world snowboarding physics with tricks, flips, jumps and grinds. Users can race down the courses against the clock or against opponents while grabbing coins and unlocking achievements.
The 3D snowboarding game merges VTree Entertainment's graphics, physics engine, and gameplay with Extreme Reality's technology to provide real-time tracking and analysis of gamers' movements for a much more immersive game experience.
Extreme Motion full-body 3D motion capture technology enables full-body 3D motion capture using a standard 2D camera.
"Adding 3D motion control was our solution to approach a new market of consumer that can enjoy an enhanced user experience of our Pro Riders game," said Charles Bergen, President of VTree Entertainment. "We chose Extreme Reality's for their innovative cross platform technology and found the integration process to be short and straight forward."
"We are very proud of the quick and seamless integration process with VTree entertainment, enriching their game with our motion control technology and opening this new user experience to a wide range of gamers," said Asaf Barzilay, VP Products of Extreme Reality.
Pro Riders Snowboard webcam motion control version will be available for PC via Amazon and additional online stores by May 30th.
About Extreme Reality
Established in 2005, Extreme Reality, also known as XTR3D, is a privately held company based in Herzlia, Israel. The company is the developer of the patented Extreme UI gesture control and Extreme Motion full-body 3D motion capture software. Supported by strong intellectual property, this powerful technology allows any consumer electronic device to enable full-body 3D motion capture using a standard 2D camera. This software can be implemented on any platform, turning any consumer electronic device into a full-body motion-controlled game system. For more information, visit http://www.xtr3d.com/
About VTree Entertainment
As a leader in the special needs software and assistive technology industry, VTree™ entertainment develops products to make a real difference in the lives of children and adults with disabilities, enabling them to achieve a higher level of satisfaction in their lives. The most important part of VTree Entertainment products, and the company's overall philosophy, is that the method is fun. VTree's video games can be manipulated to match the operator's level of competency, meaning most children and adults can "play" regardless of their level of physical and/or cognitive competency. Hand-eye coordination and social skills are all positively affected while enjoying a fun video game experience. http://vtreeentertainment.com/
###