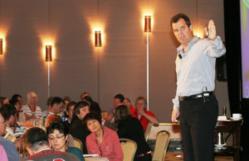 With the current low interest rates, and the high cost of rental accommodation, a growing number of people are now looking to buy a home
Sydney, Australia (PRWEB) March 27, 2013
Following the success of his 2012 real estate book 'How To Buy A House For A Dollar', Sydney-based property investment expert, Rick Otton, has agreed to hold a real estate seminar, which the public are invited to attend at no cost.
The free seminar has been timed to give as many aspiring property investors as possible the opportunity to attend. The Easter break will be over, and the Autumn school holidays won't yet have commenced.
"Our timing decision was not based solely on this, though" explained Mr Otton. "With the current low interest rates, and the high cost of rental accommodation, a growing number of people are now looking to buy a home."
"But before they enter into mortgage arrangements with the traditional lenders, I want them to be aware of the other property options that are available to them, the ones that the banks just don't offer" he said.
Mr Otton is known for his innovative approach as a real estate strategist. Some of his techniques are covered in 'How To Buy A House For A Dollar' and others will be explored in his one-day seminar on April 7 in Sydney.
"We are hearing a lot in the media about Sydney real estate 'hotspots' or 'golden opportunities', where prices are expected to improve, and much of this is media hype or editorial comment" said Mr Otton.
"The fact is that if your dream is to buy a home in a specific location, then that is 'your hotspot'. And there are ways to make that dream a reality - without negotiating all of the obstacles that the banks put before you."
Mr Otton's team strongly urges people to reserve their seats early for the one-day Sydney real estate seminar (registration is free) as places are limited.
"This is a superb opportunity for people who are struggling to both buy and sell homes in Sydney to discover proven, innovative and absolutely above-board property options available to them" said Mr Otton.
Bookings can be made online at HowToBuyAHouseForADollar.com, or by phone on 1300 888 450.
About Rick Otton
Rick Otton has spent decades making money by snapping up inexpensive real estate and putting it to work building wealth, and teaching others to do the same.
He is the founder and CEO of We Buy Houses, which operates in the US, UK, Australia and New Zealand, and through this business he puts his strategies to work every day.
Mr Otton received his start in alternative real estate investment in 1991 in the US, and within a year acquired 76 properties. In subsequent years, he made a fortune using his low-risk, high-reward strategies to inexpensively acquire real estate. He continues to do so.
As well Mr Otton travels between his home in Australia, and the UK, sharing his wisdom and teaching others how to buy and sell real estate, free from the constraints imposed by traditional lenders.
In 2013 Rick is celebrating the 10 year anniversary of introducing his property option strategies to real estate investors in the United Kingdom - the first person to reveal these ground-breaking strategies. In 2008 he created the first of his 'Houses for a Pound' strategies, upon which he grows as markets and laws evolve.
Mr Otton has been featured in a variety of television programs and magazines and in 2013 he published 'How To Buy A House For A Dollar' for the Australian market. This book has been named in the list of the Top 10 Most Popular Finance Titles for 2013, as voted by Money Magazine and Dymocks Book stores. A UK version is on the drawing board.
For full details of Mr Otton's Sydney open-to-the-public one day seminar visit HowToBuyAHouseForADollar.com