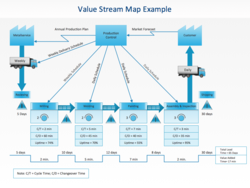 San Jose, California (PRWEB) March 26, 2013
Value Stream Mapping is a Lean Manufacturing tool that uses a flow diagram to document in great detail every step of a manufacturing process. This graphical representation of a process is a powerful tool that helps in the diagnosis of process efficiency and allows companies to develop improved processes. Many lean practitioners use Value Stream Mapping as a fundamental tool to identify waste, cut process cycle times, and implement process improvement. Many organizations use value stream mapping as a key portion of their lean efforts.
The new Value Stream Mapping solution found in the ConceptDraw Solution Park continues to extend the range of ConceptDraw PRO v9 into a business graphics tool that can be used to document processes in any organization. ConceptDraw PRO v9 supports Macintosh OS X and Microsoft Windows.
ConceptDraw Arrows10 Technology Video:
Perfect Diagramming
http://www.youtube.com/watch?v=csUrDzN0_aQ
ConceptDraw Arrows10 Technology
http://www.youtube.com/watch?v=LuGHIIL0o7E
About CS Odessa
Founded in 1993, Computer Systems Odessa supplies cross-platform productivity tools and graphic technologies to professional and corporate users around the world. From their headquarters in Odessa, Ukraine, and offices in San Jose, CA, and Boston, MA, CS Odessa sells internationally in over 150 countries, both directly and through resellers. The ConceptDraw Productivity Line has won numerous awards and is used by hundreds of thousands, including Fortune 500 companies, U.S. Federal Government agencies, small and medium businesses, and students and educators around the globe. For more information, visit http://www.conceptdraw.com.
# # #
Copyright (C) 1993-2013 Computer Systems Odessa. ConceptDraw is a registered trademark, and ConceptDraw Office, ConceptDraw Solution Park, ConceptDraw PRO, ConceptDraw MINDMAP, ConceptDraw PROJECT, and ConceptDraw Solution Browser are trademarks of CS Odessa. All other trademarks and registered trademarks are the properties of their respective owners.