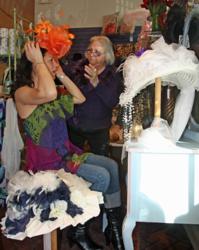 ...another great reason to enjoy Saugatuck in the Spring
Saugatuck, MI (PRWEB) March 27, 2013
Saugatuck announces its 1st annual Derby Day celebration to be held May 4th. If you can't make it to Churchill Downs and are looking for something fun to do, Saugatuck, located on the shores of beautiful Lake Michigan, has captured a way for you to enjoy all the excitement of the Derby and more.
The town has exciting things planned for visitors like a hat contest, live music by the Jackson French Quarter Dixieland Band, a mint julep contest, menu samplings and of course viewing of the Derby. In between all of the excitement you can stroll through the historic downtown shopping district, sampling spring menus from local eateries while perusing shops for the latest finds and creations by local artists. Saugatuck Mayor Bill Hess stated, "Derby Day will give our visitors another great reason to enjoy Saugatuck in the Spring. It's sure to be a winner."
The Derby Hat Contest is set for 3:00 p.m. at the Wicks Park Pavilion and entry is open to everyone. There will be prizes for largest, most original, most glamorous and funniest hats. Jodie Allen, MC of the Hat Contest is already picking out her hat, "with fresh snow on the ground" she says "it's fun to be out shopping for the quintessential spring event." A grand prize of a two-night's lodging, dinner for two, a cruise for two onboard the Star of Saugatuck, gift certificates for local shopping, and a secret surprise await the lucky winner.
Those looking for fun Derby fun this Derby day should visit http://www.saugatuckdouglas.com/derbyday . Don't forget to wear a hat!