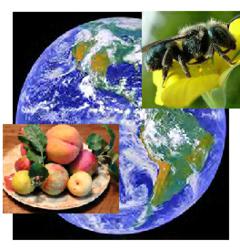 "We need more bees that are efficient pollinators for our food supply. The solution is in our own backyards."
Woodinville, WA (PRWEB) March 27, 2013
Crown Bees has a plan to help the almond industry fill the gap left by declining honey bee pollinators. Plan details will be unveiled at a free global online event, called BeeAction, Saturday, March 30, 2013.
The Company, a leader in mason bee education and bee-safe products, along with a panel of industry experts, will launch BeeGAP, a gardener-level program to save our food supply from lack of bee pollination. Gardeners are being urged to raise gentle-natured solitary bees for their own food and plant pollination.
To build this highly efficient native bee population, gardeners can sell their excess bees, through BeeGAP, for distribution to other gardeners, farmers and commercial growers.
"The almond industry is the tipping point for the decline in honey bee pollinators at the commercial level," said Dave Hunter, BeeAction host and Crown Bees founder, http://www.crownbees.com. Fewer bee pollinators results in fewer almonds, a problem that will impact other agricultural crops that rely on honey bee pollination.
"We need more alternative bees that are efficient pollinators, and the solution is in our own backyards," Hunter said. Native bees, like the mason bee, are gentle, rarely stinging pollinators that have been largely overlooked in gardens and commercial crops due to honey bee dependence.
The BeeAction event reaches out to garden writers, gardeners and communities everywhere to become part of this simple, yet bold solution. "Writers carry the power to create awareness about highly efficient native bee pollinators. Through that awareness and education, gardeners can become Power Pollinators by raising these gentle pollinators to increase the bee population," Hunter said.
Panelists addressing the issues and the solution include a honey bee and mason bee researcher, an organic farmer, and the founder of a social movement for supporting pollinators.
Dr. Gordon Wardell, biologist for Paramount Farming Company in Bakersfield, CA, has more than 30 years experience as a professional apiculturist, and has worked with bees on three continents. Previously he was the extension apiculturist for the State of Maryland, and owned S.A.F.E. Research and Development in Tucson, AZ, a company dedicated to developing products for the bee industry. He is Board Chairman for Project Apis m.
Joe Fahey, owner of Peck & Bushel Fruit Company near Milwaukee, WI, is an organic farmer with 7,000 dwarf apple and cherry trees. The unprecedented spring temperatures of 2012 prompted Joe to explore a solution to poor cold weather pollination. Teaming with Crown Bees, he will experiment with the hornfaced mason bee this spring.
Alisha M. Forrester Scott is founder of Pollinator Support Movement. To promote bee awareness, Alisha is producer and event designer for BeeS Week, June 2013, during the Albuquerque Film & Media Experience (AFME) in New Mexico. She is a prolific social media blogger on sustainable community culture, bees, and pollinator challenges, and hosts a YouTube channel.
Please register here and get information on how to participate.
Event: BeeAction: A Free Global Online Event
Date: Saturday, March 30, 2013
Time: 9 a.m. to 10 a.m. PST
Media Contact: Elsie Olesen, media(at)CrownBees(dot)com
About Crown Bees
Crown Bees, http://www.crownbees.com, founded in 2008 in Woodinville WA, is a leading mason bee pollination company engaged in keeping food on the table with solitary native bee pollinators and development of bee-safe products. Bees pollinate about one-third of the food supply. With the decline in honey bees, the Company seeks to increase the population of efficient mason bees as supplemental food pollinators. The Company's solution resides in the backyards of gardeners everywhere. Gardeners raise gentle-natured mason bees to pollinate their own food and plants; then sell their excess bees, through Crown Bees' BeeGAP program, for distribution to other gardeners, farmers and commercial growers.
Crown Bees is a member of the Orchard Bee Association and participates in managed bee research. It is an advisor to scientific researchers focused on wild bee identification and development of pollinator management practices and ethics. It is also an advisor to ASPIRE, an offshoot of the Specialty Crop Research Initiative (SCRI) sponsored by the USDA. Crown Bees products are sold in the USA, Canada and Europe.