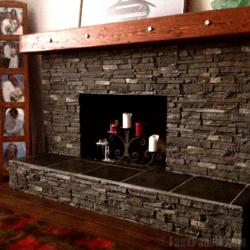 Get a clean slate with the newest Windsor panels
Deer Park, NY (PRWEB) March 29, 2013
Faux Panels increases its stone styles by adding Windsor Slatestone. Now remodelers, contractors and architects can create the look of slate without its heavy weight or tendency to split.
"Our Slatestone siding panels have all the texture and appearance of real stone, but walls don't have to be reinforced to install it, nor is any special training needed," said Steve Barron, president of Faux Panels.
Real slate is a fine-grained metamorphic rock used in construction for hundreds of years. Traditional Tudors have a slate roof and, in Wales, some homes are entirely constructed from slate because it is plentiful.
However, real slate tiles can split or crack and installation takes special skill. Slate can also be very slippery when wet.
Windsor Slatestone paneling has none of those drawbacks. Installation is quick and easy. A DIYer with basic skills can follow the easy instructions guides and for contractors it's a breeze. Walls won't have to be reinforced to handle the weight so it can be installed practically anywhere.
Made from durable polyurethane, this faux stone siding will look terrific for many years without chipping, eroding or cracking. It easily withstands routine wear and tear, wind, rain, harsh temperatures, ice and snow. It won't fade either due to its nearly zero UV degradation.
With its interlocking panel design, Windsor Slatestone will save home owners money on labor costs. The siding panels can be installed without professional assistance. If a contractor is used, the speedy installation will lower labor costs. Real stone requires an expensive mason.
With five color options, Windsor Slatestone panels will work in a variety of designs. Brunswick Brown is a mix of stately deep brown and gray. Canyon has the rich red tones of the Southwest valleys. Mountain Ash is a dark gray with light brown interspersed. Mojave has varying shades of brown, evoking a desert landscape. Pewter is mixed shades of gray, mostly middle tones but with enough dark and light pieces included to be a true neutral for all design purposes.
"Since our panels are molded from real stone, it's all about the texture. Being able to add slatestone means we can please even more customers," said Barron.
FauxPanels.com is an industry leader due to their wealth of installation guides for DIYers and the best selection of realistic faux brick, stone and wood panels and columns on the market. Its products have been regularly featured on television shows such as "Celebrity Apprentice" and numerous appearances on "Extreme Makeover: Home Edition." FauxPanels.com is a subsidiary of Barron Designs Inc., a family-owned home improvement business operating since 1972. For more information, visit FauxPanels.com.