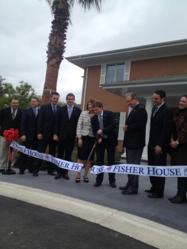 Fisher House is here to provide a home away from home for Veterans of any age, from any conflict. We owe them and their families a debt that can never be repaid.
San Antonio, TX (PRWEB) March 28, 2013
The Assistant VA Secretary for Public & Intergovernmental Affairs Dr. Tommy Sowers and Marie Weldon, Director of the South Texas Veterans Health Care System (STVHCS) joined Fisher House Foundation Chairman and CEO Ken Fisher today to dedicate the new South Texas VA Fisher House, increasing the network of Fisher Houses serving military and Veterans' families worldwide to 60. This new Fisher House will be the eighth in San Antonio — creating the largest concentration of Fisher Houses in a single city.
"The mission of Fisher House Foundation partnered with the VA's mission demonstrates our commitment and compassion to our Nation's heroes and their families," said Marie Weldon. "We are proud to have such an amazing and beautiful resource to offer as a home away from home during their stay in San Antonio. We expect that our Fisher House will be well-utilized and it is very much appreciated."
The 16-suite, 13,400 sq.-ft. "comfort home" joins the network of other Fisher Houses operating in the United States and Europe, and was gifted to the VA as part of today's ceremony. This new home will serve the families of military and Veterans, including those who have suffered severe multiple traumatic injuries while serving their country. Each bedroom suite comes equipped with a private, handicapped-accessible bathroom. Common areas include a fully equipped kitchen, large communal living, dining and family rooms, and patio.
"We are always proud to dedicate a new Fisher House, because we know it will serve thousands of families for years to come," said Ken Fisher. "This new home represents a special benchmark, our 60th Fisher House in the world, here in San Antonio, where so many of our military live, serve, raise their families, and seek out medical care. Whether a Veteran of past or current conflicts, we owe our Veterans and their families a debt that can never be repaid."
The Fisher House program was started by the late Zachary Fisher, founding partner of Fisher Brothers, a New York City-based real estate and development firm. After hearing about the challenges military families faced supporting a loved one in the hospital and the need for an affordable place to stay, Zachary began to construct comfort homes that would provide free, temporary lodging for the families of Veterans and military service members while a loved one was receiving medical care. In the more than 20 years of the program's operation, hundreds of thousands of families have benefited from the accommodations and support structure of the houses. The model has also been exported to the United Kingdom, where a Fisher House has been completed in Birmingham, and will care for families there.
Construction of this Fisher House was supported by: USAA, JW Marriott San Antonio Hill Country Resort & Spa, the Clear Channel Veterans Day Campaign, Imperial Brands / Sobieski Vodka, the Iraq Afghanistan Deployment Impact Fund, Valero Energy Foundation, Jay Leno, Ted L. McIntyre II and Family, BMI Defense Systems, Inc., Newman's Own Foundation, Bill O'Reilly and "The Factor" Viewers, the Greehey Family Foundation, the Entertainment Industry Foundation, the Wohlers Family Foundation, the Motorola Foundation, the Tawani Foundation, and Whataburger.
About Fisher House
Fisher House Foundation is best known for a network of comfort homes where families can stay at no cost while a loved one is receiving treatment. These homes are located at major military and VA medical centers nationwide, close to the medical center or hospital it serves. Fisher Houses have up to 21 suites, with private bedrooms and baths. Families share a common kitchen, laundry facilities, a warm dining room and an inviting living room. Fisher House Foundation ensures that there is never a fee. Since inception, the program has saved military and Veteran families an estimated $200 million in out of pocket costs for lodging and transportation.
Fisher House Foundation also operates the Hero Miles Program, using donated frequent flyer miles to bring family members to the bedside of injured service members as well as the Hotels for Heroes program using donated hotel points to allow family members to stay at hotels near medical centers without charge. The Foundation also manages a grant program that supports other military charities and scholarship funds for military children, spouses and children of fallen and disabled Veterans.
About VA San Antonio Healthcare System
The STVHCS is a highly affiliated tertiary health care system comprised of three divisions referred to as the Audie L. Murphy Campus, Kerrville Campus, and Satellite Outpatient Clinic Division. In addition to the acute care services in medical, surgical, mental health, physical medicine and rehabilitation, geriatric and primary care, STVHCS provides specialty care programs in spinal cord injury, community living centers, domiciliary, substance abuse, bone marrow transplant, and radiation oncology. As the part of the VA Polytrauma System of Care, STVHCS is one of five Polytrauma Rehabilitation Centers nationwide. STVHCS serves one of the largest primary service areas in the nation and is part of the VA Heart of Texas Veterans Integrated Service Network (VISN 17).