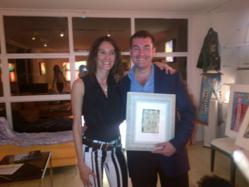 Miami, Florida (PRWEB) March 27, 2013
Into Action Treatment center, a one of a kind drug and alcohol treatment center in South Florida, welcomes Anna Balboa, a world renowned artist to their Boynton Beach, Florida, addiction center. She has come before to the center to add her artistic touches to the center, which is lively decorated with graffiti art and paintings.
Anna Balboa studied art in Spain at the University of Fine Arts of Barcelona before moving to the United States in 1993. Anna Balboa uses very peculiar iconographical elements, which tend to interrelate amongst themselves. Her style is very unique which is more than appropriate for the Into Action Treatment center.
Into Action is a very unique center, which focuses on long term recovery for addicts and alcoholics. Most treatment centers in the industry are 28 days, however Into Action is a minimum of 45 days, while most clients who complete the program end up staying over 90 days, even if their insurance money has run out. Andrey Rossin is the founder of the drug rehab, and when asked about having Anna Balboa at the center, he said, "We are very excited to have Anna at the center and love showcasing her art here and at the clients' houses. Art is all around us and we help our clients to see the beauty that they may have forgotten during their addiction, but was all around them the whole time. It really is a matter of seeing the world with a new set of eyes or lenses, as we like to say in recovery."
Together, Anna Balboa and Into Action Treatment make a great combination and they are able to make a huge difference in the world. Anna does so through her art and Andrey Rossin and the staff at Into Action do it through the art they help create inside of their clients.