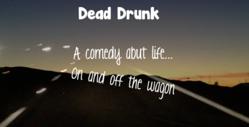 "Harry doesn't just need an intervention, He needs Divine Intervention."
Los Angeles, California (PRWEB) March 27, 2013
Main Sequence Entertainment has launched one of the most ambitious campaigns to date through Kickstarter, the world's largest funding platform for creative projects. Writer/Director Dana Marisa Schoenfeld, has pledged to raise $1.5 million to produce her feature film called "Dead Drunk."
"Dead Drunk" is a dark comedy about an alcoholic named Harry Williams. Dana says, "I wanted to take the serious subject matter of alcoholism and shed light on it by using humor to get a message across." An example of that humor is displayed in the Kickstarter trailer when Divine Intervention strikes and Harry finds himself in Purgatory. Go to http://www.kickstarter.com/projects/1650667043/dead-drunk-0?ref=live to view the Kickstarter trailer and to support the film. Dana further comments, "Harry doesn't just need an intervention, he needs Divine Intervention."
According to the AA Fact sheet, Alcohol is the number one drug problem in the United States. Americans spend over 90 billion dollars on alcohol each year and over 15 million Americans are dependent on alcohol.
Schoenfeld passionately states, "I believe in the power of comedy and I hope this film will inspire and entertain." Pop culture writer and filmmaker Franceasca Seiden reviewed the screenplay and commented, "For anyone who has lived, loved and laughed dealing with any form of addictions and isms I strongly suggest you back this smart film about life, love, loss, addiction and second chances. Dead Drunk is a poignant tale of loving an alcoholic and what it takes to get sober."
The success of another film project through the same platform called Veronica Mars Movie Project has almost doubled their pledge amount of $2 million. This successful campaign alone proves that it is possible to build an audience and raise the money through crowd funding.
Schoenfeld reaches out to fellow movie buffs worldwide by saying, "If this is a film you'd like to see in the theaters, then please help me get it made by contributing to the Kickstarter Campaign." Kickstarter makes it possible for artists to realize their dreams and for everyone to support independent films by backing the projects they like through the popular platform.
Main Sequence Entertainment is offering various tiers of awards to backers including digital downloads of the film, invitations to private screenings, signed posters, and actual roles in the film. You can even be an extra, a featured extra or have a character named after you.
Schoenfeld has won several awards for her screenwriting and has worked with some of America's most talented writers, producers, directors, and actors. She has several other high concept comedies in the pipeline. She is also an actress.
Schoenfeld began her career at the NBC Page Program in New York City where she worked on Saturday Night Live and Late Night with Conan O'Brien. "I was Kenneth, from 30 Rock," jokes Dana, "overeager to be at NBC and thrilled to have the opportunity to stock the greenroom with sugar cookies." She adds, "Working as a Page at NBC was an invaluable experience. I got to learn the daily activities of one of the best television networks in the world. I felt lucky to be there."
Schoenfeld is a graduate of the University of Michigan and studied screenwriting at Writers Boot Camp in Los Angeles. She launched Main Sequence Entertainment in January of 2010.
To support this film go to http://www.kickstarter.com/projects/1650667043/dead-drunk-0?ref=live and to learn more about Main Sequence Entertainment go to http://www.MainSequenceEntertainment.com