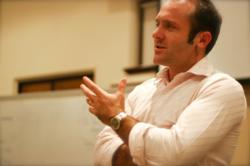 Our boys need urgent help to become the men we need.
Canberra, Australia (PRWEB) March 27, 2013
A new online resource by educational resource provider Choicez Media is giving teachers access to key issues and resources in the area of boys' education.
The weekly boys' education video blog provides educators with a short video each week on key issues in boys' education and access to articles on strategies for teaching boys.
Choicez Media director, Jonathan Doyle states, " For many years we have seen key indicators for boys in our education system continue to deteriorate. There are many factors behind the trend such as the impact of lone parenting, family breakdown, media and marketing impact and the rapid uptake of new technologies as well as other less well known problems such as a growing trend of pornography addiction and Internet addiction."
The weekly video blog is part of a larger initiative from Choicez Media which includes a major online program called The Men We Need. This program provides an extensive resource that addresses all the key topics in the weekly blog as well as other important topics such as relationships with women.
Doyle continued, "Our young men have amazing potential but any reasonable observer would agree that so many of our boys are failing to achieve what is possible for them and few are making the kinds of contribution that we desperately need. It really is time for academics, politicians, educators and families to face the seriousness of these issues and to start employing strategies to redress them. That's the main reason we built The Men We Need resource.
The Weekly blog has seen an enthusiastic response from educators with hundreds subscribing in the first few days of its availability.