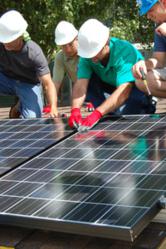 California (PRWEB) March 27, 2013
Peak Solar introduces unique, interactive solar training seminars targeted to help potential customers make informed buying choices.Research studies tell companies that the most important factor to ensuring customer satisfaction is to give them the tools needed to make informed choices. Peak Solar has taken this advice to heart. Solar training seminars will be introduced onto the website, explaining the mechanics and implementation of different solar kits.
Poised to help both residential and commercial customers, upcoming solar training seminars (link kw to page)will cover in depth topics, such as how geographic location impacts the type of system needed, how to calculate individual energy demand, state and federal incentives, utility rebates and benefits of various financing options. Users are able to interact during the webinar, ensuring that their own basic needs are met.
Those interested are encouraged to swing by peaksolar.com. Registrants can request specific topics and discuss any questions they may have. The new Peak Solar online solar training seminars are scheduled to begin in the next two weeks. The ours are completely free for all participants.
John Bucher,
1-805-765-2781
JrBucher(at)PeakSolar(dot)com
About Peak Solar:
The Peak Solar team has over four decades of experience in solar development and engineering. Together, they are working to make the science of solar energy a reality for average Americans. In addition to supplying photovoltaic systems, power inverters, DIY solar kits and components for residential applications, the company is a provider for large scale commercial projects and development.