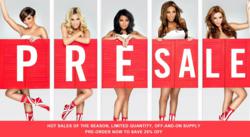 Wanna something different this summer? It's worth to have a see-through dress now!
New York (PRWEB) March 28, 2013
After a year of development, OASAP products encountered street fashionistas again with its latest fashion collections in this beautiful early spring. OASAP editors insisted on creative ideas and careful selection in the fashion feast of spring and fashion 2013, so to make OASAP brand step towards to a vigorous and attractive international fashion brand. In this season, OASAP will present a series of brand new personalized products for global fashionistas as always.
"I believe that the majority of women have an ambition on chasing fashion, we all want to be a stylish beach-goer." The OASAP editor, Miss Mandy said, "OASAP got a good sale on dresses this year, this is because we caught the high street fashion trends for this season. We are concerned about the trends in the spring and summer of 2013 from last year and the company has done a lot of research work among OASAP customers, OASAP suppliers, shopping mall and factories to ensure to provide the best exposure to the worldwide OASAP fans. "
"OASAP released a batch of see-through outfits this week, currently, this collection filled a gap in the market from online fashion stores, and this is precisely a worldwide trend this year", OASAP Brand Director, Miss Yuki introduced, "This can be forecasted from the fashion show of several famous brands, such as, Saint Laurent Paris, Chloe and Givenchy released their new designed see-through dresses spontaneously in the fashion week. The style is a breath of fresh air; I believe OASAP Fans will achieve a high rate of second glance when they put on these dresses." Yuki ended her words with a slogan, "Wanna something different this summer? It's worth to have a see-through dress now!"
"Besides the see-through dress, OASAP fans may wish to focus on four additional styles", OASAP editor, Miss Kristin added hastily "The sexy dress with a bit of lace is enticing and mysterious, it's the classic design in these years; the style designed with gorgeous flouncing was elaborated so beautiful from Givenchy's new dress, it impressed the audience with three-dimensional cutting and color of black and white to highlight undulating flouncing; the mix-match style, with various patterns and ingenious printing, continued the collage fashion of last year, the designer of Proenza Schouler took this style to a higher level by selecting special textures from Tumblr as prints and decorating with studs; it was incredible from a lot of people that the mini suit was selected for this year's fashion, but in fact, it is the essential choice for this season, and the fashion guru, Alexa Chung, Rihanna and Janelle Monae, have been given a powerful answer with their action".
Miss Yuki also confirmed the news that OASAP.com will continue to launch the hot trend of fashion products to help global fashionistas to walk in the forefront of fashion. Moreover, OASAP.com will provide preferential policies for its fans, from now on, all the users will enjoy $15 off on order over $80, and $30 off on order over $150, and shipping is free for all orders world widely.
ABOUT US
……………………………………………………………………………………………………….......
OASAP IS: A High-street Fashion Online store
OASAP Likes to: Deliver fashion & love!
OASAP is a global online store dedicated to high-street fashion by offering various kinds of women's apparel, bags, shoes, jewellery, accessories, beauty products, etc.
OASAP was founded in late 2011, and has already grown to the leader of high fashion online stores. We keep updating products at a high rate every day. Now we update more than 600 new products each week. Those products mentioned definitely belong to the latest fashion trend.
OASAP's mission is to make you close to the planet's most cutting-edge fashion, no matter where you are or what class or age group you are in. Pursuing fashion is the right of every woman.