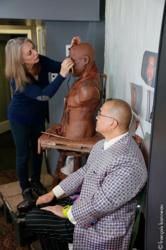 New York, NY (PRWEB) March 31, 2013
Harlem sculptor Leah Poller first heard Fred Ho in his performance of the Cal Massey magnus opus symphony "The Black Liberation Movement Suite", presented in its entirety for the first time in jazz history at the 2012 inauguration of Marcus Samuelsson's Red Rooster Supper Club 'Ginny's'. "The music was soul-rendering, and the performance by baritone saxophonist Fred Ho was mesmerizing", declares Poller. "The sheer bravado, the invention and the scope of this performance shook me to the roots, and I knew I had to meet Ho as a fellow artist seeking to break barriers of preconception of what something should be. Ho pushed the envelope, something I could relate to in my own work."
Their encounter, facilitated by Benjamin Barson, Entertainment Manager for 'Ginny's', took place a week later in a Harlem church where Ho once again performed a revolutionary selection of his own composition. "I thought Fred would dig Leah because of her zealous allegiance to all things creative, funky and transgressive", states Barson. "Poller is a woman who has mastered herself as well as her own craft; I knew Fred would dig those qualities and trust her hands and heart to be a vessel for his Apollonian incarnation. And I thought Leah would love Fred because of his passion, his commitment to justice, his love of life (even in the face of death) and his insurgent genius that leaves no soul untouched" adds Barson.
Ho and Poller began the conversation that was to become "Double Dare – a tribute to Fred Ho", a bronze portrait immortalizing the legendary musician, whose 7 year battle with cancer is entering its final stages. "As someone self conscious about my legacy due to the reality of stage 4b metastatic cancer, I have been thrilled with Leah's imagination and desire to imbue and radiate my spirit and energy as the subject of her sculpture", declares Ho.
Poller sculpted Ho in an accelerated, intense period involving heart to heart conversations, work sessions, and culinary breaks that have resulted in an artistic collaboration of the highest order. Artnews contributing editor Anne Landi offers "Double Dare … is arguably her finest work to date. It's also an exemplary demonstration of Poller's methods and magic".
Poller's tribute to Ho as well as a selection of her portraits will be presented at the Knox Gallery of Harlem in the exhibition "Mirrors of the Soul" (April 11 – May 11 2013). In addition to the unveiling of Ho's portrait, the gallery will be hosting a series of musical events, and a preview of the documentary "Diary of the Dragon: the (R)eVolution of Fred Ho, by the Black Waxx T Team.
Art critic Siba Kumar Das, upon seeing Poller's sculpture of Ho said, "Poller creates a continuum of figurative communication, just as Bodhisattva images do, by offering to the viewer an incarnation of compassion that captures the playful and joyful human solidarity that drives Ho's music."
Knox Gallery, known for its support of excellence, courage and clarity, is publishing a catalog of Poller's portraits entitled "Mirrors of the Soul", to accompany the exhibition, heralding in a new age for figurative sculpture with Poller's daring psychologically driven portraits. Perhaps the Knox Gallery has accepted to a Triple Dare in this powerful moment in both art and music.
About Leah Poller: http://www.leahpoller.com
Paris trained sculptor Poller is known for her internationally exhibited 101 Bed Collection and for her sur-realized portraits. As artist, arts-activist, writer and content editor of New Observations, Poller brings a lifetime career in the arts to Harlem where she lives and works. For more information: http://www.leahpoller.com
About Fred Ho: http://www.bigredmediainc.com
A Harvard student of sociology, and recognized as the greatest baritone saxophonist of all times, author of 8 books, director for 30 years of the Afro Asian Music Ensemble, and inaugurator of the Apollo Theater series and the Red Rooster's Ginny's Supper Club, Fred Ho has transformed music. The magnitude and immensity of Fred Ho's stature in multiple fields and intersections can be best understood in the new book edited by Drs. Roger Buckley and Tamara Roberts, Yellow Power, Yellow Soul: The Radical Art of Fred Ho (University of Illinois Press), publication April 2013.
About the Knox gallery: http://www.knoxgallery.com
The Knox Gallery, directed by Charles Knox LaSister III, located in Central Harlem, offers an elegant exhibition space in which to experience contemporary art created by emerging and established fine artists of high quality and unique expression. The unifying theme of all the work exhibited expresses profound formal grounding, an aesthetic level of excellence and an expression of courage and clarity in the voice of each artist.