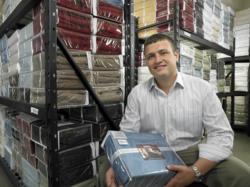 "Competing in the luxury bed and bath linen industry is very difficult because it is inherently susceptible to fake products."
Evansville, IN (PRWEB) March 27, 2013
The market for knock-off Egyptian cotton materials is at an all-time high as a result of the luxurious reputation of the fabric. "Unfortunately, the substantial popularity of Egyptian Cotton linens has attracted countless entities willing to do anything for a quick profit," says Exceptional Sheets owner Paul Saunders. "Competing in the luxury bed and bath linen industry is very difficult because it is inherently susceptible to fake products."
This is especially true in online marketplaces such as Amazon, eBay, and Overstock. Vendors can purchase $10 sets of sheets from a local big box store then turn around and market them as $300 high thread count Egyptian Cotton Sheets. "All it takes is a quick replacement of the packaging label or insert," says Saunders.
Instead of buying in to cheap thrills of luxury linens, Saunders offers bedding shoppers a few tips on how to minimize their likelihood of falling victim to vendors selling fraudulent Egyptian cotton linens.
1. Ask the vendor how much a set of their sheets weighs. Thread count is defined as the number of threads per square inch. Thus, higher thread count sheets should be noticeably heavier. For example, 1500 high thread count sheets sets typically weigh 9-11 lbs.
2. Ask for a quick photo of the product's tags. If it does not say Egyptian cotton, then it's probably not Egyptian cotton. Tags and label laws require manufacturers to disclose the materials used in their materials. Fraudulent vendors generally do not take the time to manufacture and include fake tags. They will almost certainly indicate polyester or 'microfiber.'
3. Call the company to speak with a customer service rep. Most companies selling fake products will not have an established 1-800 customer service number or will not answer if they do. A quick call and a few simple questions will give the prospective buyer a good sense of the seller's legitimacy.
4. Demand a 'No Questions Asked' return policy. If you buy Egyptian Cotton Sheets from a reputable seller they will be very confident you will love the product. Likewise, they usually offer some sort of satisfaction guarantee.
5. Read the reviews, testimonials, or better…ask for a reference. Fake reviews, testimonials, and references are relatively easy to spot and most fake vendors do not take the time, or what to pay for, review software.
6. You get what you pay for. The age old proverb rings true again. The import and manufacture of the world's best cotton is not inexpensive. Pricing should reflect accordingly.
"While you can never be 100% sure about a vendor and their product following these few easy steps can drastically decrease the probability a buyer is getting scammed" says Saunders.
Exceptional Sheets provides a wide selection of high thread count sheets for maximum comfort. Sheets are single ply, long-staple fiber and are milled on Italian Cotton Looms. To learn more about Exceptional Sheets and their authentic Egyptian cotton sheets practices, customers can visit http://www.exceptionalsheets.com/servlet/the-template/consumeralert/Page.
About the company:
Exceptional Sheets is a leading website and U.S. veteran owned and operated family business that offers a wide range of luxury bed linens featuring Egyptian cotton bed sheets, duvet covers and pillow cases as well as other products like mattress toppers, goose down comforters, 5-star Egyptian cotton bath robes and towels sets. Exceptional Sheets' mission is to provide customers with the highest quality Egyptian cotton sheet sets and bed linens in addition to top-notch customer service. To see what Exceptional Sheets can do for you and your home, visit http://www.exceptionalsheets.com.