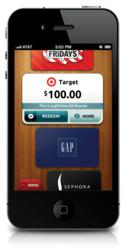 San Francisco, CA (PRWEB) March 27, 2013
Gyft, Inc, the service that allows customers to buy, send, manage and redeem gift cards via mobile and social media, today announced that it has opened its APIs to developers and companies. Doing so allows anyone to integrate Gyft into websites, apps, and internal programs. The result is an innovative means for redeeming points, miles, rewards and more for gift cards from an extensive network of hundreds of brands and a robust mobile gift card delivery platform.
"Gift cards have become almost synonymous with cash," said Gyft CEO, Vinny Lingham. "Our platform provides companies and developers with an elegant solution to give consumers choices in how, when and where they want to use their rewards points, redeem miles, or whatever the case may be. We've created a clean, fun interface that can be used in exciting ways."
Gyft enables businesses and developers to easily store and share gift cards with employees and customers via text, email, and social media, and it's incredibly simple for users to redeem cards in-store or online. Unlike other payments platforms, Gyft does not charge transaction fees. For example, if a company wants to distribute gift cards to its employees as incentives or allow its customers to convert points into gift cards, it can instantly and securely leverage Gyft's growing mobile distribution platform without incurring additional charges.
"In the crowded mobile app market, Yappem looks for ways to stand out. Gyft gives us a great way to do this," said Justin Webb, CEO of Yappem. Yappem is a new social network offering users real value in return for sharing their unbiased and real experiences with brands and businesses. "The Gyft APIs allow our users to choose from hundreds of gift cards Gyft offers, regardless of which brand experiences they are sharing. Further, the Gyft APIs have been a critical part of our success as a one-stop shop for a quality rewards program. Gyft makes rewarding users seamless for Yappem."
Since its launch six months ago more than $5,000,000 and hundreds of thousands of consumer gift cards have been loaded into the Gyft platform.
To learn more about why businesses, developers and consumers love Gyft, please visit http://www.gyft.com or download they Gyft app from the App Store or Google Play.
About Gyft:
Gyft, Inc. provides a gift card platform for consumers and retailers that enables customers to upload, buy, send, and redeem gift cards conveniently from their mobile device. Gyft is seamlessly integrated with Facebook so users can send gift cards to their friends around special events. Gyft is a private company funded by Google Ventures, Founder Collective, Karlin Ventures and 500 Startups, with offices in San Francisco, CA. For more information, visit http://www.gyft.com.