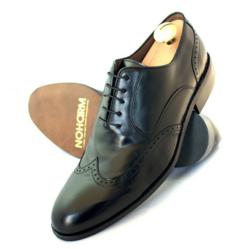 NOHARM's ethical heritage vegan footwear all hand-crafted in Italy by master craftsmen.
(PRWEB) March 28, 2013
Continuing the NOHARM heritage of offering vegan shoes that compare to the highest quality leather shoes made in Italy, the new styles range from classic Oxfords and Derbys to slick Wholecuts and Monkstraps:
i) Buckingham- classic straight cap oxford style shoe.
ii) Bergamo- a black wingtip Oxford style vegan shoe.
iii) Tor - a classic Brown Vegan Monk Strap style shoe.
iv) Hugh - a Vegan Classic Oxford Style wholecut shoe.
v) Como - black vegan loafers with raised apron in gloss finish.
vi) Heath - brown faux-suede vegan shoes. A full brogue derby shoe with wing tip design and punching detail.
vii) The new contemporary leather free Darwin brown lace up ankle boot radiates style.
In addition to the new styles, NOHARM shares a range of limited editions to explore interest in truly fashion-forward men's vegan shoes:
i) Limited Edition Black Roma Vegan Shoe. Sharp Italian styling with a subtle pointed toe.
ii) Limited Edition Genoa - Punch Toe Vegan Black Oxford Shoe. Sharp Italian styling with a subtle pointed toe.
NOHARM's ethical heritage is backed by recognition from the Vegan Society and is based on a cruelty-free ethos. All NOHARM materials are meticulously researched to ensure the finished product conforms to the highest ethical and environmental standards.
The ethical credentials of vegan footwear are obvious to most. However, the environmental implications might be less obvious. To quote Senior U.N. Food and Agriculture Organization official, Henning Steinfeld, the meat industry is "one of the most significant contributors to today's most serious environmental problems."
Carbon dioxide, methane, and nitrous oxide together cause the vast majority of global warming. Raising animals for food (AND LEATHER) is one of the largest sources of carbon dioxide and the single largest source of both methane and nitrous oxide emissions.
In addition to ethical and environmental considerations, NOHARM supports healthy, fair and dignified working conditions and strongly opposes employment abuses regularly exposed by the media.
Hear what wearers of NOHARM have to say on our testimonials page...