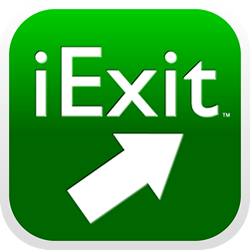 "There's something to be said for this kind of convenience, especially if you're a serious road-tripper."
CNET.com
Birmingham, AL (PRWEB) March 28, 2013
Metrocket Software, the developer of the #1 paid travel iPhone app, iExit, is releasing a completely redesigned update to its Android version today. The update, version 2.0, brings all of the major features found in the iOS version to the Android version, including a new user interface, improved searching, background alerts, and over 3000 coupons.
iExit uses a smartphone's location to determine where a user is located on the interstate and then displays upcoming exits and businesses without the press of a button. Its powerful search functionality allows users to filter upcoming exits by their specific needs, whether that's fuel, lodging, coffee, a rest area, or a favorite restaurant. iExit has been the top travel app in the iTunes App Store for much of 2012 and 2013.
iExit 2.0 brings the Android version up to the same feature set found on iExit for iPhone, version 4.8. It comes with a vastly improved user interface over the previous version. "We received very positive feedback when we updated the user interface for iExit for iOS" explains Evan Metrock, CEO of Metrocket Software. "So we took the major components from that user interface and tailored them specifically to the Android interface, so we're confident our Android users are going to love the new look."
In addition to the new look, iExit 2.0 comes with enhanced search features, most importantly the addition of Preset Filters. These filters allow common iExit user types, like truckers and families, to press a single button and view upcoming businesses specific to them. iExit 2.0 also provides display notifications in the background giving users a convenient view of upcoming exits with their favorite businesses. And the new update comes packed with over 3000 lodging and dining coupons, with more incentives coming in the near future.
iExit 2.0 for Android is only $0.99 and can be downloaded in the Google Play Store. iExit for iOS, compatible with both the iPhone and iPad, is also $0.99 and can be downloaded in the App Store.
Reviews for previous iOS versions:
"iExit gives a great rolling window into all of the restaurants, gas stations, and what have you as they pass on the nation's interstate highways."

"iExit is a valuable resource for travelers in general and especially so for parents of picky eaters."

"There's something to be said for this kind of convenience, especially if you're a serious road-tripper."

About Metrocket:
Founded by Evan Metrock in 2010, Metrocket is based out of Innovation Depot, a business incubator located in Birmingham, Alabama. This incubator was named the best technology incubator of 2011 by the National Business Incubation Association, beating out more than 2,000 programs worldwide. Metrocket released iExit for iOS in January 2010 to great critical and commercial success.
Download iExit today on the Google Play store.