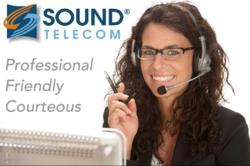 Sound Telecom's extensive industry experience and commitment to 100% consumer and client satisfaction made them an ideal partner
Seattle, Washington (PRWEB) March 28, 2013
Sound Telecom signs inbound support program to assist Baby's Journey, Inc. of Pawtucket, Rhode Island. Baby's Journey is an innovative and quickly growing juvenile products manufacturer that develops insightful product solutions for new parents. Products like The Bath Hammock™ provide comfort and security, keeping baby calm and relaxed during bath time. The patented Roller-Sling™ easily retracts into the secure base which folds for travel and storage. Baby's Journey is now shipping close to 20 new products at top name retailers such as Babies 'R Us, Buy Buy Baby, and Baby Depot and has partnered with Sound Telecom to provide first class consumer support.
"As a young company," says their president Steven Gibree, "providing a high level of consumer care is important to Baby's Journey. Finding a trustworthy and knowledgeable resource with an expertise in managing our consumer call services is a top priority. Sound Telecom's extensive industry experience and commitment to 100% consumer and client satisfaction made them an ideal partner. With their state of the art technology and 24/7 answering capabilities Sound Telecom is well positioned to support Baby's Journey's growing product line."
COO for Sound Telecom, Brian Gabriel, adds, "I was excited about this program from the beginning because of the passion that the Baby's Journey team has for their products and consumers." Recently, Israel Alarcon, Director of QA and Project Management, flew to Sound Telecom's Spokane, Washington facility to provide hands-on product training for their call center agents. Stephanie Winkler, Sound Telecom's Inbound Services trainer, welcomed Israel aboard. "We really enjoy having our clients visit to help us train. It just shows how much they really care about what they are doing and the people that they serve."
"We mainly get calls from moms and dads that want to make sure they are setting up and using their product correctly," adds John Dubay, Sound Telecom's Director of Operations. Sound Telecom puts parents at ease by providing quality consumer service and technical support for the entire Baby's Journey product line.
About Sound Telecom
Sound Telecom is a leading provider of 24 hour Telephone Answering, Call Center and Cloud-based Phone Services, headquartered in Seattle professionally serving thousands of customers throughout the United States and Canada with USA based agents. The twenty-seven year old company has offices in Seattle and Spokane, Washington and Denver, Colorado. For more information, please visit http://www.sound-tele.com.
About Baby's Journey, Inc.
Based in Pawtucket, Rhode Island, Baby's Journey, Inc. is a juvenile products manufacturer that designs, markets and distributes insightful and innovative product solutions intended to make every day parenting easier so parents can focus on what matters most…their baby. To learn more about Baby's Journey and their full line of products visit http://www.babysjourney.com.
Contact Information
Sound Telecom
Michael L. LaBaw, President
800-577-1550
http://www.sound-tele.com
Baby's Journey
Lois Glasgow
VP of Marketing
http://www.babysjourney.com
Office: (401) 722-1677
Fax: (401) 722-1676