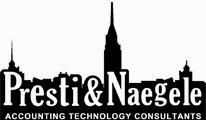 Presti & Naegele Accounting Technology Consultants recommends clients use QuickBooks Online for iPad for several reasons
New York, NY (PRWEB) March 27, 2013
With the introduction of QuickBooks Online for iPad, small businesses operating on a primarily mobile basis no longer have to be tied to a desk to update their books. They can have more productive workdays with an app that helps them increase productivity wherever they are.
QuickBooks for iPad offers the No. 1 business accounting software to the fastest-growing mobile device market. QuickBooks Online for iPad combines the most useful on-the-go business management tasks with an easy-to-use app that includes step-by-step walk-throughs of the set-up and operation process - a new feature only available on QuickBooks for iPhone.
QuickBooks launched apps for iPhone and Android in 2008 and 2011 respectively, both of them having 4+ ratings on the Apple and Android App Market. The company estimates that since then over 20% of its 1.3 million users accessed QuickBooks Online using an iPad. Though the original app was not optimized for an iPad screen, the new QuickBooks Online for iPad is fully optimized and offers a new and unique feature not found on any other mobile application - full iPad integration.
After signing in to QuickBooks Online for iPad, the service automatically syncs the company's data across all shared devices through the secured cloud. This means if you make changes to an account on an iPad, those changes will automatically be saved and displayed on the iPhone and on the Web. Relevant information from various email accounts and social networking sites are also pulled and saved to make sure customer contact information is kept as up-to-date as possible.
Presti & Naegele Accounting Technology Consultants recommends clients use QuickBooks Online for iPad for several reasons:

Quick Start - it only takes minutes to set up an account and learn to use QuickBooks Online for iPad. Only a username and password are required to sign up. The user-friendly guided setup walks new users through the entire process. Sourcing contact information is effortless.
Better Service - important tasks can be completed as they occur, providing better service and time management. On the spot estimates and invoices help business owners get paid faster. Expedite jobs with electronic approval and record important project details for quick reference.
Full iPad Integration - Camera, Contacts, Push Notifications and Location Services allow users to stay on top of business updates. Push Notifications alert users to important meetings or other items that require immediate attention, while Camera integration allows users to take photos of invoices and receipts for use during tax season.
About Presti & Naegele Accounting Technology Consultants
Presti & Naegele Accounting Technology Consultants, or PNATC for short, utilizes QuickBooks as its core offering to provide customized accounting software solutions. The dedicated staff of QuickBooks Certified Pro Advisors is based in New York and provides clients with a wide range of software and business accounting services. Services are tailored to fit the unique business needs of individual clients and are designed to increase the bottom line and streamline accounting procedures.
Contact
Alicia Fleri
Presti & Naegele Accounting Technology Consultants
225 W 35th St New York, NY 10001
(646) 380-4975