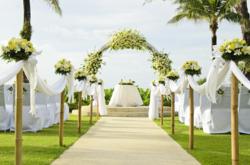 Newport Beach, CA (PRWEB) March 27, 2013
A local news station in Tampa, FL released an article about two emerging trends that help couples save upwards of 50% on their weddings, says Wedding.com. Day-of wedding planners and early weekday weddings are now more prominent options in the wedding planning process.
In an effort to counterbalance growing wedding expenses, brides and grooms have been looking for new ways to save. Many couples are unable to hire a full-time wedding planner or to afford a typical weekend affair, especially when, according to the ABC Action News article, an average wedding costs just about $27,000 (http://www.abcactionnews.com/dpp/news/region_polk/wedding-planners-two-new-trends-can-help-cut-costs-sometimes-by-half). Two trends have since emerged. Couples replace the notion of having a full-time wedding planner with the idea of hiring a day-of wedding coordinator. According to Wedding.com, this move allows a couple to hand the reigns to someone else on the big day, even if they do not have the budget for a planner, according to Wedding.com. The second trend is getting married on a weekday, more specifically on Monday or Tuesday. Wedding venues are better able to negotiate prices on a weekday because business is slower those days. The same is even more true for Mondays and Tuesdays.
"Just because a wedding budget is smaller than others does not mean a couple needs to sacrifice having a wedding altogether," says Brett Reynolds, CEO of Wedding.com. "Hiring a day-of coordinator or planning an early weekday celebration are great ideas! They save a ton and can still yield an amazing wedding."
For more information about Wedding.com, please visit http://www.wedding.com.
About Wedding.com
Wedding.com is an innovative new website that connects engaged couples planning their wedding with wedding vendors looking to grow their business. Wedding.com contacts vendors for couples, giving them the power to compare and negotiate while ultimately saving time and money. With 12,000 couples and 22,000 vendors currently using the website, 105,000 proposals have already been sent since their inception. Vendors range in services from wedding planners, photographers, florists, and DJs to custom invitations, party favors, and much more. For additional information about the company and its services, please visit http://www.wedding.com.