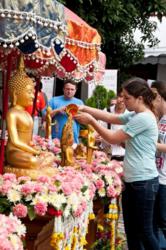 Bangkok, Thailand (PRWEB) March 27, 2013
The Tourism Authority of Thailand (TAT) is organising a variety of events from 6 to 21 April 2013 to celebrate the Thai New Year under the name "Songkran Splendours." The holiday, which falls during the hottest month of the year in Thailand, celebrates the conventional calendar's "astrological passage" and is marked by throwing water on anyone within splashing range.
TAT considers Songkran a unique festival which has captured the attention of many Thai and foreign travellers alike, and as a result it is holding simultaneous events in different areas of the country. The festival has been actively promoted at overseas marketing shows with the ultimate goal to introduce it as a world event.
"Songkran is definitely the festival that Thais most look forward to because it brings together family and friends to celebrate the Thai New Year by honouring their elders, while engaging in day-long fun by splashing water on friends and passersby. It is a unique combination of honouring ancient traditions and having fun, which makes Songkran popular with visitors looking for an unforgettable Thai experience," said Mr. Suraphon Svetasreni, Governor of the Tourism Authority.
This year features a wealth of Songkran-related activities throughout the country. People can participate in an assortment of activities ranging from beauty pageants and oyster shelling competitions, to sprinkling water on sacred Buddha statues and making food offerings at temples.
The grand opening of the festival takes place in Bangkok and will feature events at four popular temples in the city, plus the area around Siam Paragon, and also a designated stretch along the Chao Phraya River.
"In 2013, we've ensured that visitors to Thailand can partake in an array of events happening throughout the country so they can explore and experience how people from various regions of the country celebrate the Songkran Festival," added Mr. Suraphon.
This year's "Songkran Splendours" include:
Bangkok- (12-16 April)
Old City Songkran Festival, Ayutthaya - (13-16 April)
Suphan Buri Songkran Festival - (11-14 April)
Chon Buri Songkran Festival - (13-21 April, depending on location)
Phra Padaeng Songkran Festival, Samut Prakan Province - (19-21 April)
Chiang Mai Songkran Festival - (7 -16 April, depending on location)
Sukhothai Songkran Festival - (6-14 April, depending on location)
Thai - Lao New Year's Merit Ceremony & Nakhon Phanom Songkran Festival - (8-15 April)
Top Isan Songkran, Dok Khun Festival - (8-15 April)
Isan Nong Khai Songkran Festival - (6-17 April)
Hat Yai Midnight Songkran - (11-14 April)
Songkran on Phuket Beach - (10-15 April)
Nakhon Sri Thammarat's Nang Dan Procession in Songkran - (11-15 April)
While the official holiday runs from 12-16 April, events will be ongoing for various periods from 11 to 21 April. TAT is expecting to make a big splash with this year's festival, hoping it will lead to tourists returning for future Songkran holidays. In addition to increased revenue, TAT hopes successful marketing of Songkran will lead to conservation and restoration of the traditions, activities, festivals, cultures, and resources that Thailand has to offer tourists, helping to maintain Thailand's uniqueness and its heritage. For more information, visit http://www.tourismthailand.org/