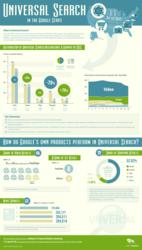 There's been a sharp fall in both the number of shopping integrations and the percentage of shopping compared with other universal search integrations. The timing of the trend correlates closely with Google Shopping becoming a paid-for service.
New York, NY (PRWEB) March 27, 2013
There was a 79% fall¹ in shopping integrations showing retailers' products within Universal or 'blended' search results on Google.com during 2012 according to new research from search and social analytics leader, Searchmetrics. The fall coincides with Google starting to charge retailers to use its Google Shopping service.
The previously free Google Shopping service, which gave retailers the opportunity of having their products displayed in shopping integrations for shopping related Google searches, switched to a pay-for-inclusion model in the US in October 2012. Retailers have since had to buy shopping related Product Listing Ads which incorporate product images, pricing and other information if they want to appear in Google's shopping integrations.
Marcus Tober, CTO of Searchmetrics explained: "Shopping integrations are part of a number of Universal Search integrations or 'blended search' results under which Google blends boxes containing additional media within search pages to try and closely match what searchers are looking for - other examples are the video, image, map and news integrations. When searchers are looking for information for product purchases, the shopping integrations attract greater attention and generate high click-throughs because the product images stand out on the search page. But our data indicates there's been a sharp fall in both the number of shopping integrations and the percentage of shopping compared with other universal search integrations. The timing of the trend correlates closely with Google Shopping becoming a paid-for service."
Top Sources of shopping Integrations on Google.com (2012)

Google: 52.02%
Amazon: 11.82%
Ebay: 4.28%
Sears: 1.21%
Others: 30,67%
Searchmetrics analyzed search results for millions of keywords on Google.com during 2012, noting the frequency and type of Universal Search integrations displayed. The data indicates that while shopping appeared in 20% of all Universal Search integrations within Google searches at the start of 2012, by the end of the year it was down to just 5%.
And as can be seen in the table above, Google's own listings accounted for over half of all shopping integrations. This means searchers are led to a product listings page provided by Google itself rather than seeing individual retailers' own shopping integrations with direct links to the retailers' web sites.
Another key trend highlighted by the research was video integrations decreasing by 14%, while the percentage of image integrations (32%) stayed constant, with the total number of different images that appeared having grown by 28%. Despite the fall in video integrations, by the end of 2012, video still appeared in 62% (the highest percentage) of all Universal Search integrations (see table underneath).
Share of Universal Search integrations on Google.com (Dec 2012)

Video: 62%
Images: 32%
Maps: 7%
News: 6%
Shopping: 5%
(Note: The table above indicates the percentage of all Universal Search integrations which included video, images, maps, news and shopping in Dec 2012. The sum total of Universal Search integrations is greater than 100% because Google often shows more than one Universal Search integration for the same search query)
Most (8 out of 10) video integrations are for video content hosted on Google property, YouTube, which has significantly more video integrations than Dailymotion and Vimeo, the second and third most common sources for video integrations. The study also found that video integrations from YouTube were generally positioned higher up on search results pages than video content that is displayed in integrations from other sources.
"Our data indicates that if a business wants to have its video content appearing in video integrations on Google, it would do well to make sure it is on YouTube and of course it needs to ensure its videos are well optimized for the keywords and phrases that are being targeted," said Marcus Tober.
Another finding from the Searchmetrics study was that news integrations increased by 70% during 2012, with Google showing news integrations from a bigger number of news sources (web domains).
The data from the study is highlighted in a Searchmetrics infographic and the Searchmetrics White Paper based on its Universal Search study can be found here: http://www.searchmetrics.com/en/universal-search-study/
¹Searchmetrics analyzed the search results for millions of keywords and recorded the number of times shopping integrations were displayed. The analysis indicates that there were 79% fewer shopping integrations appearing for the keyword data set in Dec 2012 than in Jan 2012.
About the Study
Searchmetrics analyzed search results for millions of keywords on Google.com during the course of 2012, noting the frequency and type of universal integrations displayed. Universal Search in this case being the separate shopping, maps, video, news and image focused insertions that Google displays within its results pages for many searches.
About Searchmetrics
Searchmetrics is the pioneer and world's leading provider of search and social analysis software for companies and online agencies. Searchmetrics has a unique server infrastructure and software solution – its Searchmetrics SuiteTM – which its clients and partners continually use to aggregate and analyze very large volumes of data on the rankings of websites, keywords in searches and competitor groups. Searchmetrics SuiteTM gives users unique insight into the visibility of websites on search engines in 124 different countries and on the largest social media portals. This information plays a decisive role, especially in inbound marketing, where having excellent visibility on search engines is essential for companies to reach potential customers on the Internet.
In addition to the Suite, with its Essentials product Searchmetrics offers a tool set for a quick start in search engine and social network optimization and real-time analysis in Germany, Austria and Switzerland, as well as high-end SEO consulting services. The company has branches in Berlin, London, Paris and New York and operates its SaaS solution through a network of partners and its online shop. The fast-growing company, based in Berlin and currently employing more than 100 staff, is part-owned by the renowned venture capitalist companies Neuhaus Partners and Iris Capital. Many renowned clients, such as T-Online, eBay, Siemens, TUI, GM and Kaspersky rely on Searchmetrics to ensure that they have excellent search engine rankings.
Media Contact
Uday Radia
CloudNine PR Agency
+44 0-794-058-4161
uradia(at)cloudninepr(dot)com