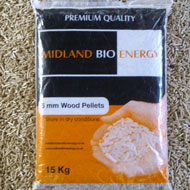 Our heat logs, heat briquettes and pellets have very low moisture content, less than 10%. This means you get a higher heat output
Atherstone, Warwickshire (PRWEB) March 27, 2013
Small Biomass burning boilers can just be used for heating, or a back boiler can be installed at the same time to heat water.
Larger versions can be used to heat water and produce heat for the whole house.
You can buy wood pellets (which are the most common form of fuel) or Biomass fuel is also available as heat logs and wood chips.
Is a Biomass boiler suitable for your home?
Back Boiler
If you want to add a back boiler changes to your plumbing maybe required. Check with an installer if this is necessary.
Do you have a chimney or a flue?
You will need a chimney or a flue for your stove as you would for any conventional wood burner.
Chimney Lining
Some chimneys and flues aren't suitable for biomass fuel. The vent material has to comply with building regulations. Check with a chimney engineer if yours requires lining.
Smokeless Zone
Check with your local authority if your property is in a smokeless zone. If you are in a smokeless zone then you still maybe able to use a biomass boiler as you can buy wood pellets which are classed as smokeless (due to their low emissions).
Do you live in a conservation area?
If your home is a listed building or you live in a conservation area planning permission will need to be granted before fitting a chimney or flue. Check with your local planning department.
Space and Storage
Biomass boilers are usually larger than their equivalent oil or gas versions. To store fuel and especially heat logs around six to seven square metres of storage space is essential.
It is important that your storage area is covered to keep your fuel dry.
Consider vehicle access to your storage area as deliveries will usually be by lorry.
Plumbing
Will the boiler work with your existing plumbing? Consult a Biomass boiler plumbing specialist to check if the boiler is compatible as your plumbing may need altering.
Fuel Suppliers
Fuel can vary greatly in cost and local suppliers will usually be cheaper as the majority charge for distance travelled. Also buying in bulk can result in savings.
"Our heat logs, heat briquettes and pellets have a very low moisture content, less than 10%. This means you get a higher heat output" explains Andrew Brindley, UK Heat Logs supplier.
"We sell them in easy to store 10kg sacks making them ideal for domestic or commercial customers" added Andrew, supplier of wood pellet bedding.
"We have held our prices for domestic bagged pellets for the 16th consecutive month. Despite cost increases incurred and we maintain our position providing below market average price for equivalent quality pellets" said Mr Brindley, Retailer of wood pellet bedding.
Servicing
To get the most efficiency from your boiler it will require servicing on an annual basis.
Radiators
It isn't always necessary to change existing radiators providing they are suitable for the heating capacity required, consult your plumber.
Is the boiler MCS approved?
The Microgeneration Certification Scheme (MCS) is an internationally recognised quality assurance scheme. MCS is also an eligibility requirement for the Government's financial incentives, which include the Feed-in Tariff.
If you generate your own electricity your energy supplier might pay you.
How the 'Feed-in Tariff' (FIT) scheme works
You'll get a set amount for each unit (kilowatt hour or kWh) of electricity you generate. The rates vary depending on:
The size of your system.
What technology you install.
When your technology was installed.
Who put the technology in place - you need to use a certified installer.
Is the boiler CE approved?
The ATEX Directive is a European Single Market Directive that applies to electrical and mechanical equipment and protective systems intended for use in potentially explosive atmospheres. To qualify for funding your system will need to be CE approved.
Cost
More expensive boilers tend to be more efficient. Typical costs are £7000 for a hand fed version and around £12,000 for an automatic fed boiler.
Solar Power
Can you link the boiler to Solar Thermal panels to allow for summer usage?
Funding
The Energy Saving Trust (EST) website is a good resource. Check if funding is available through Green Deal. You can make energy-saving improvements to your home or business without having to pay all the costs up front through the Green Deal.
Midland Bio Energy was formed in 2007 in Warwickshire. Originally intended to manufacture and supply Bio Fuel products. Midland now supplies fuel and wood pellet bedding products to the commercial sector, the equine industry and domestic households.
Press release written by Web Design Bolton Company Vizcom