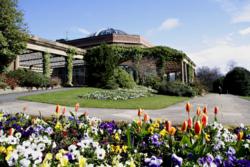 Harrogate has plenty to celebrate after a record 2012 for company formation... the future of Harrogate looks very bright indeed
Harrogate, North Yorkshire (PRWEB UK) 29 March 2013
The latest Duport Business Confidence Report for Harrogate shows that 2012 was a record year for company formation in the town. Could the a rise in business start-ups be linked to its recent placing at number one in Rightmove's Happy At Home Index?
Harrogate also performed well in Duport's national league tables, coming 33rd out of the top 100 UK towns for net company growth in 2012, as well as ranking highly for young director appointments and female director appointments.
The positive results seen in Duport's research point towards an economy that is doing well in spite of difficult economic conditions - which may have a bearing on the contentedness of its residents. The record number of new company formations suggests that business confidence is high in the town, and its place in the national league table for net company growth shows it is out-performing larger neighbours such as Sheffield and Leeds
Managing Director of Duport.co.uk, Peter Valaitis said:
"Harrogate has plenty to celebrate after a record 2012 for company formation and some impressive positions in our national league tables. I'm not surprised that it has been voted the country's happiest town - if current trends continue, the future of Harrogate looks very bright indeed."
The Duport Business Confidence Report for Harrogate contains a variety of data that can be used to gain an insight into the local business landscape. More information and statistics can be found at http://www.duport.co.uk/harrogate.
Duport Business Confidence Reports are generated and released by Duport Associates Ltd. The data contained in these reports is assimilated and analysed by Duport using public record data from sources including Companies House, Office for National Statistics and Ordnance Survey. Duport Associates Ltd is a leading UK company formation agent, established in 1997 and registering around 10,000 new companies each year through its Companies House approved software.