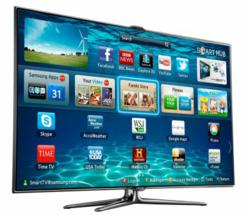 Birmingham, West Midlands (PRWEB UK) 27 March 2013
When compared to high street stores, Cheap-LCD-TV.co.uk offer a range of TVs and other audio visual equipment at extremely competitive prices. Whether consumers are on the lookout for the latest LCD TVs, LED TVs, 3D TVs or Smart TVs, there's no doubting that there's a model in stock which is suitable from Cheap-LCD-TV.co.uk. The way in which the firm are able to offer such fantastic discounts on products from high street named brands such as Samsung, Sony and LG is by offering what is known as graded stock and by all sales being picked up from one of their collection depots spread across the country.
Graded stock doesn't mean damaged and all products sold by Cheap-LCD-TV.co.uk come complete with a full 12 month warranty through the firm. The way in which the firm acquire TVs is through high street retailer's surplus stock. As stated by the firm, "This may be because the TVs are surplus stock, end of line/discontinued models, 30 day customer returns, unwanted gifts, or items with damaged/no packaging."
All models are thoroughly tested once they've been received by Cheap-LCD-TV.co.uk and offered for sale at prices significantly lower than what they're available for on the high street. A spokesperson for Cheap-LCD-TV.co.uk continued, "It's a common misconception that graded means damaged, however that's very rarely the case. There are exceptions where there may be a scratch on the case of a TV, however the majority of the time, all it means is that the product may not be in its original box or may have been a previous customer return. The fact that a full 12 month warranty is offered shows our commitment to offering only the highest quality of products and to give reassurance to each and every customer."
In addition to offering a full 12 month warranty, all TVs are shown (working) to customers upon collection from one of their branches in Birmingham, London, Preston, Weston Super Mare, West Yorkshire, Essex and Derby.
To see the current range of fantastic discounts on a wide selection of TVs and other AV products, head over to the company's website at http://www.cheap-lcd-tv.co.uk.