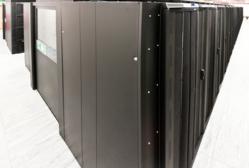 Gosport, Hampshire (PRWEB UK) 29 March 2013
The Internet Protocol (IP) address system lets computers talk to each other over a network, but the depletion of the world's IPv4 address pool due to the exponential growth of devices connected to the internet has been a concern for over twenty years. While IPv6, the technological successor to the IPv4 standard, is already supported by Redstation, IPv4 still routes most traffic across the internet, so these addresses remain extremely valuable during the transition.
And while Microsoft has reportedly* been spending millions on IPv4 addresses, independent data centre Redstation in Gosport has now purchased over 32,000 IPv4 addresses from Sinet telekom, based in Belgrade.
Redstation Managing Director Martin Groom says this is the first in a string of purchases for the company:
"Although 32,000 IPv4 addresses may sound a lot to some people, half of those will be allocated to customers already on our waiting list, which highlights a growing trend across the industry.
"Having access to these additional IPv4 addresses – which are still in demand at this time – will ensure Redstation's uninterrupted growth during the internet's transition to IPv6. We already support and allocate IPv6 addresses to our customers, and we hope that the transition period will be short for everyone's benefit."
*http://www.businessinsider.com 24th March 2011