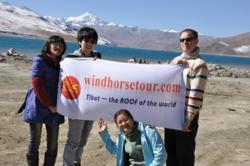 There are no group size and nationality limitations for foreign travelers in 2013. -- Tashi
(PRWEB) March 27, 2013
WindhorseTour, a local Tibet tour travel agency that specializes in providing tours to Tibet and throughout China, is pleased to announce that foreign travelers can once again easily apply for a Tibet Travel Permit. On March 25th, the Tibet Tourism Bureau (TTB) released an official notice that Tibet would be reopen on April 1st. This important travel news means the previous restrictions in place for foreigners traveling to Tibet in 2012 have been lifted.
One of the most important points of the news is "There is no group size or nationality limitations for foreign travelers in 2013," said Tashi, one of WindhorseTour's Staff in Lhasa. Tours can easily be arranged for only person throughout the Tibet Autonomous Region.
WindhorseTour has already begun applying for clients who pre booked tours to Tibet, under their money back guarantee. Helen Wang the sales manager at WindhorseTour said, "We are very confident from our years of experience that both a Tibet Group Tour or Tibet Private Tour will leave a remarkable memory for all who travel with us."
One of WindhorseTour's strengths is their experience to match their clients interests to a vast array of possible activities. Travelers to Tibet can choose an overland trip to Mount Everest, trekking from Ganden to Samye Monastery, a spiritual cleansing at Holy Mountain Kailash and many more. Their Travel Advisors have all personally visited Lhasa and the most popular destinations.
WindhorseTour has a wide selection of Tibet Group tours that have been designed based on the direct feedback from previous clients and their staff's personal travels. From their most popular 8 Day Overland Trip to Mount Everest with options of returning to Lhasa or continuing onto Nepal. With prices starting at $380 all inclusive there are options for everyone!
The Tibet permit process takes 3 to 5 working days, and WindhorseTour only needs copies of their clients' passport and China visa to submit the application. With their no hassle approach to travel, customers can choose to start the Tibet Permit Process with WindhorseTour and if they postpone their travel there are no penalties.
If you have any questions about traveling to Tibet or other areas in China, please don't hesitate to contact them by email or telephone.
Email address: news(at)windhorsetour.com
TEL: (+86)-28-85593923, (+86)-28-86254701
Fax: (+86)-28-86254710