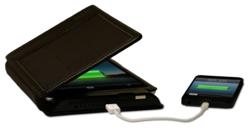 Power your devices simply with the light all around you!
Orlando, FL (PRWEB) March 28, 2013
The market has no shortages of iPad cases. But how many of them can charge your iPad AND your phone too? The new KudoSol and KudoBank can do just that. Kudo is launching eight separate new projects simultaneously, which are each available for a short time at Kickstarter.com. These have an interesting twist from the standard battery cases available. For the iPhone 5 battery case, Kudo has an ultra lightweight protective cover, which glides into a rapidly charging pouch. It has a removable belt clip and even a USB power/sync cable built in. This new concept keeps the weight off of the phone while increasing the battery life from 1500mAh to nearly 4000mAh!
Kudo has also created a stylish lightweight iPad battery case for the Nexus 7 tablet, iPad mini and the new iPad 4th generation. With a battery at only 4mm thin the KudoBank carries a whopping 5,000mAh of storage to charge both your phone and your iPad. To make life simpler the USB charging cable is simply built right in, so no need to carry around extra wires for the iPad or Nexus.
It gets better. In addition to the battery case for the Nexus and iPads, Kudo is also offering an impressive solar powered version of their Nexus 7, iPad mini and iPad 4 battery case that can generate approximately 30-40 seconds of use for every minute of direct sun. The KudoSol will also power your phone with their secondary USB port. It includes the same USB charging cable built-in as the Bank above, which also syncs and backs up all your data as well.
Since Apple's new Lightning Pin connector has a microchip built directly into the head of the pin, many are worried that legitimately purchased accessories around the world could be shut off remotely by Apple at any moment.  Not a concern for the Kudo holders, all five of these Apple power driving products are currently wrapping up the rigorous Apple certification process to ensure they include an authentic Lighting pin and meet all of Apple's quality standards.
Kudo recently released these to the public at a pre-launch discount on Kickstarter.com starting at $65. With only a few weeks left on the campaign this is a great way to ensure getting an environmentally friendly case with an authentic Apple connector that keeps your portable devices powered all day. To get one of the very first ones and make sure they become funded visit http://www.kickstarter.com/projects/davefoster/kudo-an-new-twist-to-power-the-iphone-5-ipad-4-and